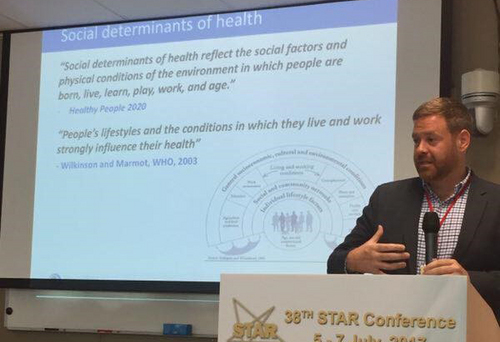 Dr Brian Hall is the first scholar to be appointed APA-IUPsyS GMHF to work with the WHO
Dr Brian Hall, an assistant professor from the Department of Psychology, Faculty of Social Sciences (FSS), University of Macau (UM), has been awarded the first APA-IUPsyS Global Mental Health Fellowship (GMHF) by the American Psychological Association (APA) and the International Union of Psychological Science (IUPsyS) for the 2017-2018 period. This is the first time the fellowship has ever been offered, and it was awarded to a University of Macau scholar. The fellowship will give Dr Hall the opportunity to work on key initiatives related to the Mental Health Action Plan of World Health Organisation (WHO).
The fellowship provides a unique opportunity for recipients to contribute to the work of WHO in its Department of Mental Health and Substance Abuse for a period of one year. As a fellow, Dr Hall will be involved in the implementation of international global mental health policy. He will work with WHO on key global mental health research initiatives related to WHO's Mental Health Action Plan, which aims to 'promote mental well-being, prevent mental disorders, provide care, enhance recovery, promote human rights, and reduce the mortality, morbidity and disability for persons with mental disorders.' Dr Hall's work will involve evaluation of scalable psychological interventions, eMental Health, mental health policies, and psychosocial responses to conflicts and other adversities.
The fellowship will also give Dr Hall the opportunity to visit the WHO headquarters in Geneva and engage in various field-based research initiatives, primarily in low- and middle-income countries. Part of Dr Hall's work will be carried out with the aim of benefiting Macao residents by introducing WHO's intervention programs and policies on mental health to the local community.
At UM, Dr Hall has developed courses in global public health and global mental health, which is a sub-field of global health. Global mental health research aims to improve physical and mental health of populations, particularly those in under-resourced environments, by strengthening health systems, developing culture-specific illness definitions and improving their measurement, conducting studies to identify and ameliorate the burden of disease (such as depression), developing and testing intervention programmes, and advising on key health policies. To learn more about Dr Hall's research, please visit:
http://www.umac.mo/fss/psychology/staff_Brian.html
View gallery