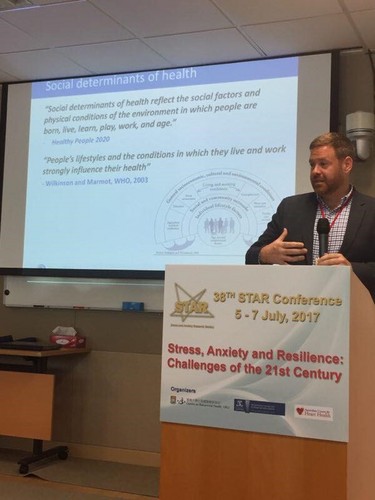 UM scholar has published the first epidemiological study of depression among Chinese adults in Macao
Dr Brian Hall, assistant professor from the Department of Psychology, Faculty of Social Sciences (FSS), University of Macau (UM), and his Global and Community Mental Health Research Group, conducted the first population representative study of depression in Macao. The results showed that 8 per cent of Chinese adults are likely to bedepressed. Based on this estimate, over 30, 000Macao residents may be in need of mental health services. The prevalence of depression in Macao is higher than observed in published studies from neighboring Hong Kong and in mainland China.
According to the study, depression is most prevalent among women across the life course, elders (over age 65), and middle-aged men. The results showed that key correlates of depression were unemployment, divorce, poor health, and low levels of social capital. Depression is the most common mental disorder globally, and the burden of disease attributable to depression is among the highest in the world. Measuring depression in Macao is the first step to establishing whether mental health should be an important public health priority in the SAR. The epidemiological study was conducted via a telephone survey, which is a valid method of collecting sensitive information. The total sample was weighted against the Macao population census, so the results can generalise to and accurately reflect the Macao population.
Depression and other mental disorders are often neglected, since unlike cancer, they are 'invisible' illnesses. They are also often stigmatised, especially within the Chinese context. The authors of the study highlighted that a treatment gap exists in Macao – there are many more people who need high-quality, culturally appropriate, evidence-based psychological treatment, than the number of providers available to deliver these treatments. A comprehensive action plan for mental health is needed and this should be informed by continued research.
Dr Hall is working with the World Health Organization to test scalable intervention programms that can be utilised to reduce the burden of mental ill health among Macao residents. The paper was published in the prestigious journal Social Psychiatry and Psychiatric Epidemiology (Quartile 1,JSRrankings; Impact Factor = 2.92), and can be downloaded from the following link:
ttps://link.springer.com/article/10.1007/s00127-017-1415-8.
Dr Hall has been appointed to the editorial board of this journal, following the publication of this article. To learn more about Dr Hall's research, please visit http://www.umac.mo/fss/psychology/staff_Brian.html.
View gallery