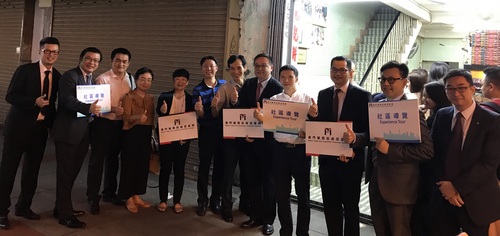 GMBPF organised tours of Macao for the participating exhibitors, helping to propel a community-based economy
Jointly organised by the Macao Trade and Investment Promotion Institute (IPIM) and Department of Commerce of Guangdong Province, Guangdong and Macao Branded Product Fair 2017 (GMBPF 2017), held for three consecutive days, ended today (30th) and proved to be a resounding success. The "Guangdong & Macao Delicacies Express", "Station Avenue", and four main pavilions had a vibrant and joyful ambience while exhibitors reported pleasing sales volumes. During the three-day event, the number of visitors was pretty much the same as last year and a total of 72 business matching sessions were conducted. This year, GMBPF was, once again, held concurrently with the Macao Franchise Expo 2017. The organisers have arranged exhibitors of the two events to carry out a field trip in Macao in order to enable them to experience the different aspects of Macao and promote the economic development of the Macao community.
Guangdong and Macao complement each other and participate in "Belt and Road" initiative
"Forum on Economic Co-operation in the Guangdong-Hong Kong-Macao Greater Bay Area" increases effectiveness of GMBPF
During the GMBPF, 72 business matching sessions were conducted, involving enterprises from Guangdong (Chaozhou, Guangzhou, Jiangmen, Meizhou and Shenzhen) and Macao. Products mainly covered famous brand food and drinks, traditional Chinese herbs, environmentally friendly products. .,. Moreover, a "Forum on Economic Co-operation in the Guangdong – Hong Kong – Macao Greater Bay Area – Dissemination and Effects of the Platform between China and Portuguese-speaking Countries" was held concurrently in order to provide reference and recommendations for building Macao as a "Service Platform for Trade and Economic Co-operation between China and Portuguese-speaking Countries" and the complementary benefits shared by the competitive industries along the "Greater Bay Area", thereby increasing the effectiveness of GMBPF.
Exhibitors of four main pavilions highly praised the effectiveness of GMBPF
This year, GMBPF occupied an area of 9,000 square metres and set up a total of 345 booths, of which 107 were Macao booths, 194 were for Guangdong. The Indonesian exhibition area was set up for the second year running while Myanmar was attending for the first time to promote and pave the way for participating in the "Belt and Road" construction. The number of Myanmar and Indonesia booths accounted for 30 and 14, respectively. A local coffee and tea marketing director Gary Chio noted that GMBPF is very successful in terms of promotion and advertising and has attracted a large number of visitors each year. He further said that the holding of GMBPF and the Macao Franchise Expo at the same time and in the same venue can help attract a more diverse customer base, and thus it has become a regular activity of their company and their products were sold out each year. He also believed that a successful brand does not merely rely on the products they offer, but the culture behind the brand, so they not only sell coffee but also disseminate the culture of coffee via different channels.
General Manager of a food company from Zhaoqing Guangdong, Nelson Liang, stated that they have participated in this event for five consecutive years and approved of the success of GMBPF. They mainly display and sell health seasonings which are welcomed and recognised by Macao people, and their sales volume is quite pleasing and has a steadily grown year on year, he continued. They have accumulated a number of repeat patrons in the recent five years and attract many local residents to buy a large amount of their stock each year, added Liang. He further said that this year, they have introduced an innovative marketing model by providing an interactive experience to customers, i.e. using their own seasonings to cook food and offering free tasting to customers, filling the entire site with a pleasant smell.
First-time exhibitor and person-in-charge of Pearl, Diamond and Jewellery Shop from Myanmar, Si Si Lwin expressed her satisfaction with the organisers' arrangements as well as their sales volume. She pointed out that their jewellery and jade and stoneware accessories are widely received in the Macao market and they mainly sold their products this year and look forward to meet some company buyers next year. Representative of coffee and jewellery exhibitor from Indonesia, Chan Weng Wa summed up that they are satisfied with the translation support service newly added by the government and organisation this year and he said that it was really thoughtful. He also said that Indonesia coffee is well-known in the Greater China Area and they brought over 100 boxes of stock and all were sold out yesterday and immediately requested their Hong Kong branch to send more stocks to Macao. The sales of jewellery, silver accessories and essential oil are much better than expected and they also plan to participate again next year, he added. He also noted that most exhibitors are manufacturers and they expect to meet some wholesalers for large orders.
Residents can't buy enough despite a wide variety of products, exhibitors identify with synergistic effect of two events
GMBPF has built a strong brand image in Macao. Local resident Ms Ip has been here for two consecutive days to go on a shopping spree. She thought that GMBPF offers a wide variety of quality products at lower prices, which meets her shopping needs and she spent nearly US$1,000 on Guangdong specialties and other foodstuff yesterday and seized the last chance to buy some more at even lower prices today.
Moreover, GMBPF is being held concurrently with the MFE at the Venetian Macao this year. Ip believed that the concurrent events would provide more options to customers. Exhibitors also highly praise the synergistic effect of the two events which can help attract more visitors, increase the lively ambience, share resources and create new co-operation opportunities for merchants at home and abroad. Guangdong exhibitor Mr. Liang noted that the products displayed and sold in the two events can form a supply and demand chain to broaden the space and prospect of future co-operation.
A never-ending fair
Although the three-day GMBPF 2017 came to a conclusion today, our online virtual platform is open all year round. The organisers have already uploaded all exhibitors' information and product photos on the website for long-term promotion purposes. You may also browse our official website www.guangdongmacaofair.com to search your favourite merchants and products. Results of lucky draw will soon be published on our website.
View gallery