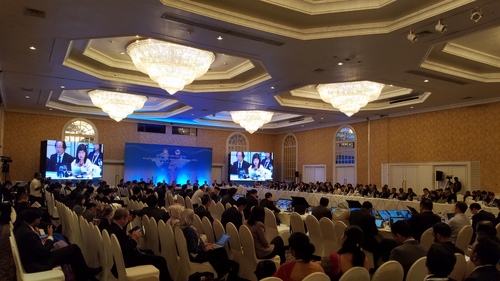 The APG Annual Meeting held in Sri Lanka
Asia/Pacific Group of Money Laundering (APG), the international organization on Anti-Money Laundering and Terrorist Financing, on 19 July adopted the Mutual Evaluation Report (MER) of Macao SAR in its Annual Meeting which is being held in Colombo, Sri Lanka. Macao SAR obtains an outstanding result both in terms of the technical compliance of legal framework as well as the effectiveness in implementation of measures against money laundering, terrorist financing and proliferation financing. This 2017 APG/GIFCS Mutual Evaluation Report provides a solid and authoritative proof of Macao SAR's strong efforts by both the public and private sectors in the prevention and fight against money laundering, terrorist financing and proliferation financing. The Macao SAR Government will continue its ongoing efforts in the stringent implementation of measures against money laundering and financing of terrorism.
Among the 11 effectiveness outcomes according to the evaluation methods stipulated by the Financial Action Task Force (FATF), the international standard-setting body of anti-money laundering (AML), counter-financing of terrorism (CFT) and combating of proliferation financing (CPF), Macao obtains 6 substantial effectiveness ratings which ranks it among the higher tier of APG members. There are also 3 moderate effectiveness ratings and only 2 low effectiveness ratings. For the technical compliance assessment which deals with completeness of legal and institutional framework, Macao SAR has obtained 37 compliant and largely compliant ratings out of the 40 FATF Recommendations and only 2 partially compliant and 1 non-compliant ratings, which also places Macao SAR among one of the globally evaluated jurisdictions with the most comprehensive AML/CFT legal framework.
The 6 substantial effectiveness outcomes mainly assess Macao SAR's efforts in international cooperation, supervision, legal persons & arrangements, use of financial intelligence, TF preventive measures & financial sanctions, and PF financial sanctions. The MER states that the AML/CFT WG comprises all relevant agencies and has proven effective in coordinating policy, annual strategic plans and recently the Risk Assessment, as well as promotion and awareness raising.
In terms of international cooperation, Macao SAR's authorities are proactive in seeking international cooperation for a range of purposes, including ML and criminal investigations and recovery of assets, at the same time providing a range of international cooperation, including mutual legal assistance, intelligence/information, and beneficial ownership information. The overall quality of assistance is generally sound and timely, as confirmed by feedback received from other jurisdictions.
For supervisory regime, all financial institutions, Designated Non-Financial Businesses and Professions (DNFBPs) and other sectors are subject to AML/CFT supervision with resources devoted to higher risk and material sectors. Sound risk-based supervision is undertaken in the two most significant sectors – the gaming sector supervised by the Gaming Inspection and Coordination Bureau (DICJ) and the financial sector supervised by the Monetary Authority of Macao (AMCM), and licensing controls are robust in all financial institutions, and most DNFBPs.
Regarding CFT, the MER also highlights the good efforts taken by Macao SAR in the areas of CFT and CPF. The assessment team acknowledges that implementation of TF and PF-related sanctions is generally good within the context of Macao SAR's risks, and the banking sector has a high-level of awareness of their obligations to comply with UN sanctions lists as does the gaming sector. The assessment team also recognizes the improvement in the efforts of the Judiciary Police (PJ) to conduct parallel financial investigations which indicates it has a framework to pursue TF and follow the money.
In the meantime, the MER also points out a few improvement suggestions for Macao SAR Government to follow up, which include the need for enhancing higher effectiveness for prosecution and conviction rates of money laundering crimes. The Macao SAR acknowledges the comments from APG, and long before the ME process, has proactively taken actions to revise the AML law and got it passed in May 2017 which aims to address the problems.
The Asia/Pacific Group on Money Laundering (APG), which was founded in 1997 in Bangkok Thailand, is one of the associate members of the Financial Task Action Force (FATF), an international anti-money laundering and counterterrorist financing (AML/CFT) organization. APG currently has 41 members, ng the world's largest FATF Style Regional Bodies (FSRBs). All members of APG must comply with the same rigorous standards as FATF members do. Macao, China became a member of APG in 2001. This is the third MER of Macao SAR and is a joint ME by APG with the Group of International Finance Centre Supervisors (GIFCS).
View gallery