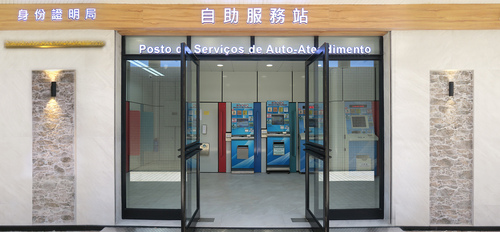 DSI Self-Service Station
For the convenience of residents of the outlying islands to use public self-services, the Identification Services Bureau (DSI) sets up a self-service station at Seac Pai Van in Coloane. The station is put into official use starting from 19 July 2017.
DSI Self-Service Station, which opens 24 hours a day, is located at Avenida da Harmonia, Edifício Ip Heng, Block Ⅲ, R/C – F, Coloane. There are 4 integrated self-service kiosks providing 24 kinds of services involving 9 government departments and 1 "City Guide" information kiosk in the station for public use.
At present, integrated self-service kiosks are located in 45 locations in Macao. Citizens may browse the official website of the Identification Services Bureau (www.dsi.gov.mo/kiosk_other_e.jsp) for details. The Identification Services Bureau will continue to extend the service location of integrated self-service kiosks, so as to provide more convenient self-services to citizens in different districts of Macao.
View gallery