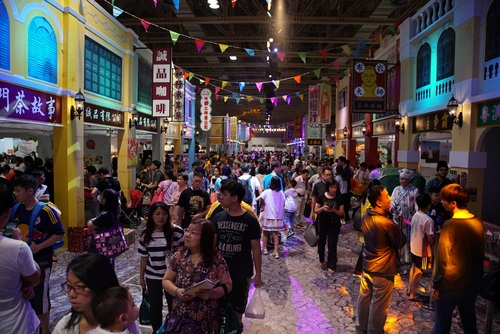 GMBDF 2016 reported huge visitor flow.
Jointly organised by the Macao Trade and Investment Promotion Institute and Department of Commerce of Guangdong Province, Guangdong and Macao Branded Product Fair 2017 (GMBPF 2017) is scheduled to take place at the Convention and Exhibition Centre Hall B, The Venetian- Resort- Macao, from 28th to 30th July. Embracing trade, cultural exchanges, shopping, leisure and entertainment, GMBPF 2017 is an important annual exhibition for both Guangdong and Macao and has gained wide acceptance and popularity from various sectors, playing an important role in strengthening trade and economic co-operation between Guangdong and Macao and promoting Macao's economic diversification.
Since its inception in 2009, GMBPF has made continued efforts to upgrade its standard and service quality in order to build a favourable business and trade platform for Guangdong and Macao enterprises. This year, the exhibition area has expanded further to 9,000 square metres compared to 6,000 square metres in 2009. In 2016, GMBPF attracted over 83,000 visitors in three days and concluded 67 business matching sessions. Apart from the "Guangdong Products Exhibition & Sales Area" and "Macao Products Exhibition & Sales Area", the event introduced, for the first time, the "Indonesia Products Exhibition & Sales Area" to support the "Belt and Road" construction and bring into play Macao's supporting role in the "Belt and Road" initiative. The highly characteristic "Guangdong & Macao's Vintage Shopping Street" was included to display the spirit of advancing with the times and innovation. Its success has been widely recognised by both the exhibitors and visitors.
GMBPF 2017 will, once again, embrace the "Belt and Road" elements and the concept of "Guangdong-Hong Kong-Macao Greater Bay Area" to continue to search for quality products for merchants and consumers and bring more business opportunities for trade and brand development for exhibitors, creating various opportunities for displaying the favourable economic conditions of Guangdong and Macao.
Highlights of this year include the "Guangdong Products Exhibition & Sales Area", "Macao Products Exhibition & Sales Area" It will also include the "Myanmar Products Exhibition & Sales Area" and "Indonesian Products Exhibition & Sales Area" to further infuse the "Belt and Road" elements. It is believed this can help encourage exhibitors in "going global" and "bringing in investment".
GMBPF this year will highlight the food and cultures of Guangdong and Macao. Hence the theme "Guangdong & Macao Delicacies Express" is adopted to weave the wonderful era of the "one-day living circle" of Guangdong and Macao. Following the success of "Guangdong & Macao's Vintage Shopping Street" last year, the "Station, Square and Street" is another fascinating event that can't be missed! It includes the high-end 3D printed food tasting, handmade products created on the spot, VR roller coaster "adventure tour", among other exciting projects. Large installations, such as a candy carousel and a colourful macaroon Ferris wheel, will be set up for visitors to check and take photos with. During the event, Hong Kong actor Steve Lee will appear in the "Celebrity Cooking Live Show" to teach his Cantonese culinary arts. Interactive games with prizes, consumers' lucky draw and final lucky draw will also be available at the event. Over 10,000 fabulous prizes await you!
As in the previous year, GMBPF 2017 will be held concurrently with the Macao Franchise Expo 2017 to jointly create the "new golden opportunity". For further details of GMBPF 2017, please visit www.guangdongmacaofair.com or contact us om (853) 8798 9636 or fax: (853) 2872 6777 or follow our WeChat ID: gmbpfair or Facebook page: gdmofair.
View gallery