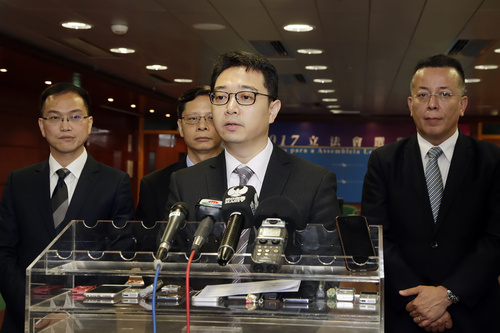 The Chairman of the Electoral Affairs Commission for the Legislative Assembly Election, Mr Tong Hio Fong, speaks to reporters.
The Electoral Affairs Commission for the Legislative Assembly Election today confirmed the legal status of four additional nomination committees regarding the direct election process of the 2017 Legislative Assembly Election.
The confirmation means a total of 25 nomination committees have been approved for the upcoming direct election. The legal status of six nomination committees for the indirect election process had previously been confirmed.
The Chairman of the Commission, Mr Tong Hio Fong, gave the information on the latest confirmations to reporters after a review – during today's meeting – of some supporting documents submitted by the four nomination committees concerned.
The Legislative Assembly Election Law stipulates that only political associations and nomination committees have the right to nominate candidate lists for the Legislative Assembly election.
In addition, the Commission had identified a total of 118 individuals signing the nomination papers of more than one nomination committee, contrary to the rules, said Mr Tong.
The Secretariat of the Commission had so far met 33 of those identified and found one case whereby a nominee's signature had been acquired by someone allegedly providing that person with misleading or false information. Information presented to the Commission preliminary showed the case might violate the Legislative Assembly Election Law, he said.
The Commission had transferred the case to the Public Security Police Force for investigation, said Mr Tong. If any wrongdoing were proved, the person or persons involved might face a sentence of imprisonment from one to five years.
Mr Tong said the Commission would compile a report regarding duplicated nominations once it had met all the identified signees.
View gallery