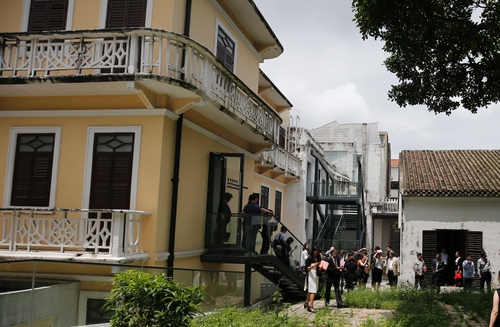 Market representatives having inspection visit to new attractions and tourism facilities
Macao Government Tourism Office (MGTO) holds its Annual Marketing Meeting 2017 in Macao from 19th to 23rd June. 42 participants including MGTO's market representatives and PR consultant as well as personnel of the Macao Special Administrative Region Delegations from around the world attends the meeting to report on the progress of current projects and discuss marketing plans.
During the meeting, MGTO Director Maria Helena de Senna Fernandes updated the representatives on Macao's latest tourism situation and introduced the major local events lined up in the latter half of 2017, including the 5th Macao International Travel (Industry) Expo, PATA Travel Mart, Global Tourism Economy Forum and the 43rd National Congress of the Portuguese Association of Travel and Tourism Agencies, among others. MGTO Director also elaborated on the progress of the Office's two main projects, namely, the formulation of the "Macao Tourism Industry Development Master Plan" and the task of proceeding with Macao's application for designation as a member of the UNESCO Creative Cities Network in the field of gastronomy, and she encouraged all market representatives to initiate creative and novel ideas to promote Macao's gastronomy. The representatives reviewed their work performance over the past year, reported on the progress of their current projects and preparatory work for the next half of 2017 and discussed their marketing plans to be carried out in 2018. MGTO officials and market representatives shared their experience and exchanged perspectives on the upcoming projects.
In order to effectively promote the diverse and latest tourism projects of Macao, the market representatives undertook an inspection visit to the new attractions and tourism facilities during their stay in Macao, including Cinematheque・Passion, Taipa Village, Taipa Ferry Terminal, the "Cultural Guildhall", Chong Sai Dispensary and the newly built hotels.
With the concerted efforts and collaboration of the market representatives, MGTO continuously foster diversification and internationalization of visitor source markets. This year, the Office continues to adopt the theme "Experience Macao Your Own Style" and reinforces online promotions, striving to attract more high-value visitors and prolong visitors' length of stay in line with the goal of building Macao into a World Centre of Tourism and Leisure. From January to May this year, Macao welcomed over 13.1 million visitor arrivals, up by 6.3% year-on-year. Visitor arrivals from Greater China markets increased by 5.8%, whereas international visitor arrivals surged by 10.6% which indicates a record of year-on-year increase for five consecutive months. In 2016, international visitor arrivals occupied 9.7% of the total visitor arrivals, while in the first five months of 2017, the proportion reached 10.2%. With regard to overnight-stay visitors, the number surpassed same-day visitors for three consecutive months with more than 6.7 million registered in the first five months of this year, representing 51.2% of the total visitors and a year-on-year increase of 13.7%.
Over the years, MGTO promotes tourism of Macao and provides tourism information in different source markets through its market representatives, PR consultant and the Macao Special Administrative Region Delegations. Some of the marketing efforts include organizing mega promotional events, joining travel fairs, holding travel marts and seminars, arranging familiarization trips to Macao as well as promotions through traditional channels, online and social networking platforms and so forth.
View gallery