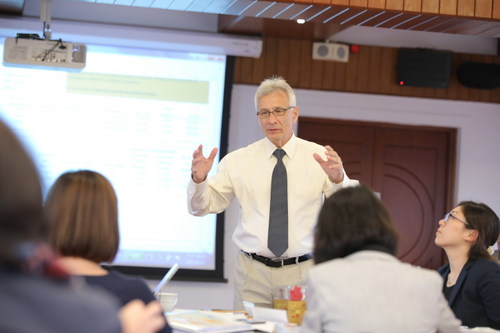 Participants having the lecture.
In order to provide diversified training opportunities for industry professionals and enhance management quality of the local service industry, Institute for Tourism Studies (IFT) and Cornell University School of Hotel Administration co-orgainsed an Executive Development Programme on "Hospitality Financial Management: Operations Decision-Making" on 20 and 21 June.
This course focuses on the application of financial-management concepts useful in analysing hospitality operations. Managerial accounting tools are explained, examined, and applied during the course as they relate to the decision-making process. The programme emphasises on communicating and interpreting financial data from a general manager perspective. The programme attracted 25 professionals of local hotels and mega resorts.
IFT has the honour of inviting Professor Michael Flannery from the Executive Education Faculty at the Cornell University School of Hotel Administration to give the lecture. Professor Flannery has managed hotels and restaurants. His consulting engagements include a variety of businesses related to the hospitality industry throughout the world. He has given numerous development seminars in hospitality financial management, internal control, and operational issues affecting hotel real estate. He regularly teaches for Cornell University executive programmes in the US and around the world.
Through the programme, participants gain the ability and confidence to use financial-analysis tools to increase profitability within their operations.
IFT has been ranked by the "QS World University Rankings by Subject 2017" as the 2nd best higher education institution in Asia in the field of hospitality and leisure management and the 18th best higher education institution in this field in the world. IFT is always striving to enhance its teaching and research so as to contribute to the industry and the society. By organising seminars and workshops, IFT constantly shares with the industry the most updated information and research findings about the future development of Macao's tourism industry and ways to enhance it.
View gallery