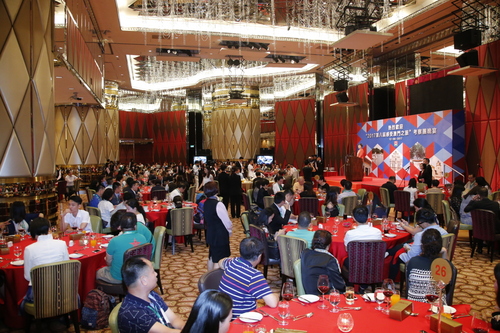 Senna Fernandes welcome over 200 delegates of travel and media partners from the Mainland
The delegation of "The 8thExperience Macao Tour", formed by representatives of travel trade partners and key members of the media from the Mainland, travelled to Macao for a four-day mega familiarization trip. The itinerary includes World Heritage sites, facilities and tourism products targeted for family travel. In parallel with the tourism development goals of the Macao Special Administrative Region Government's Five-Year Development Plan and the pace of building Macao into a World Centre of Tourism and Leisure, Macao Government Tourism Office (MGTO) actively fosters the diversification and continuous development of the local tourism industry, in addition to encouraging travel partners and members of the media to assist in promoting more ways to experience Macao.
The familiarization trip, themed as "Experience Macao Your Own Style – Parents and Kids Having Fun in Town", attracted over 200 delegates, which represent various tourism institutions and key media from the Mainland. The delegation arrived inMacao on 11 June for a four-day itinerary including World Heritage sites, the most up-to-date family activities, tourism facilities and products, as well as exchange session, etc. MGTO Director Maria Helena de Senna Fernandes, Deputy Director Cheng Wai Tong, Director of Asia Tourism Exchange Center, Li Jianping, Chairman of the Board of China Travel Service (Macao) Ltd., Daniel Fong, met with the delegation this morning (12 June) and took a group photo together in front of the Ruins of St. Paul's.
Kong Shanna, deputy editor of Chinese Satellite TV, has joined "The Experience Macao Tour" for the second time. She stated that the tourism facilities and products in Macao have become more diversified, in turn alluring a wider variety of tourists to visit Macao. She believed that Macao is a very attractive family travel destination, and will stay for one more day after the tour in order to experience more leisure tourism products. She also thought the tour can enable delegates to explore more ways to experience Macao for family travel and will recommend this destination to audiences from different regions.
General manager of China Travel Service Fujian, Zeng Xu, believed that family travel in Macao has certain attractiveness to the Mainland population, and is considering to develop more family tourism products and tour itineraries to Macao after this tour. He explained that currently many families prefer to travel to the Southeast Asia region, especially Hong Kong and Macao for family trips. With the summer holiday approaching, he felt that the organization of this tour is very useful and inspiring for the delegates. In addition, with the strengthening of tourism cooperation between Fujian and Macao, there are more Macao tourism products and tours launched in the market.
During the welcome dinner today, Senna Fernandes expressed in her speech that Macao and different provinces and cities in the Mainland are strengthening promotional efforts on integrated tourism, hoping to utilize the opportunities brought by the construction of the "Belt and Road " and development of a city cluster in the Guangdong-Hong Kong-Macao Greater Bay Area, in turn fostering regional tourism development. Being a member of the "China Maritime Silk Road Tourism Promotion Alliance", MGTO actively leverages on Macao's role as a platform and its unique competitive advantages, working hand in hand with other member units to create and promote Maritime Silk Road tourism products, develop "Belt and Road"-themed tourism products, establish its image as a regional travel destination through multi-destination tourism products and routes, and tap into international visitor source markets.
She noted that MGTO is propelling the diversification of the tourism industry, among which the diversification of tourism products and visitor source markets plays a major role. With more tourism complexesopening in Macao, as well as the introduction of a larger variety of family tourism facilities and products, family travel in Macao is becoming more popular. She hopes that the delegation can experience Macao's unique charm as a hub on the Maritime Silk Road, and encourages the trade and media partners to promote the diversified ways to experience Macao, thus informing the Mainland counterparts on Macao's attractiveness as a multi-day leisure tourism destination.
Since its launch in 2000, "The Experience Macao Tour", organized by China Travel Service (Macao) Ltd., has reached its eighth edition this year, with MGTO as the supporting entity.
View gallery