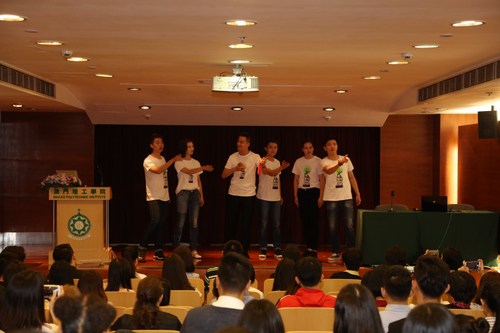 Students from the Communication University of China perform an amusing clapper talk - tongue twister show
More than 30 teachers and students from several universities, including the Communication University of China (CUC), visited the Macao Polytechnic Institute (MPI) on 22 May for a cultural exchange and academic sharing session. Professor Lu Jingchao, member of the national committee of Chinese People's Political Consultative Conference and the Dean of the School of Presentation Art of CUC, chaired a session entitled 'The Beauty of Recitation'. Students from CUC also put on a wonderful recitation and clapper talk - tongue twister performance, receiving rounds of applause from a hundred teachers and students who were enchanted by this superb demonstration of prose and sound.
Professor Lu shared her experience and feelings about the art of recitation and vocal language. She recited stanzas from Chinese poems 'Quiet Night Thoughts', 'Story of Old Tippler's Pavilion' and 'Untitled (Hard to come by and hard to say goodbye)', using her varied intonations and cadence to infuse delicate sentiments in these well-known classics. The audience was deeply moved by her performance and expressed their appreciation with repeated praise and applause. Professor Lu stated that students should make reading a habit, as it is through reading out loud that they can express their emotions. She noted that recitation can train a person's moral character so that the individual becomes more polished, refined, and ever more sincere and simple. Furthermore, to become a skilled orator, one has to coordinate his/her eyes, heart and mouth during a recitation so that he/she can deliver the profound meaning behind the words spoken. Professor Lu encouraged students to read more books, especially Chinese poems, through which they would learn how to engage in a 'conversation' with the ancient poets in an endless pursuit to discover the significance behind these old writings. Professor Lu concluded her talk with a sharing of her own experience, reminding students that it is inevitable that everyone feels powerless about life at some point in time. For this reason, young people have to make an effort to follow their own beliefs while pursuing a meaningful life.
After Professor Lu's talk, CUC students showcased their talents by performing sentimental poem recitations and an amusing clapper talk - tongue twister show which combined story telling with traditional Chinese ballad arts. Loud cheers and applause erupted after this performance, bringing the sharing session to a captivating close.
This sharing session was organised by the Ministry of Education of the People's Republic of China. Around 100 participants were present, including representatives from the Ministry of Education, teachers and students from Guangzhou University and Jinan University, researchers from MPI's Centre of Sino-Western Cultural Studies, and students of MPI's International Chinese Language Education, Chinese-Portuguese Translation and Chinese-English Translation programmes.
View gallery