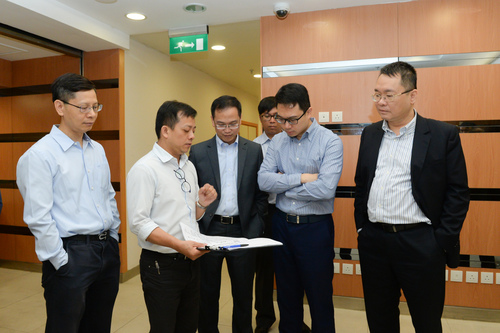 Members of the Electoral Affairs Commission for the Legislative Assembly Election inspect facilities of polling stations.
The Electoral Affairs Commission for the Legislative Assembly Election has a preliminary plan to install polling stations at 35 venues, one of the venues containing two polling stations, thus making available a total of 36 polling stations for 2017's direct election process for the Legislative Assembly.
For those Assembly seats assigned to five functional constituency groups under the indirect election process, the Commission has decided to operate five polling stations, all at the Macao Polytechnic Institute.
The number of polling stations for the upcoming election is to be increased by six, with five additional venues, compared to the 2013 election. The reason for the increase is the growth in the number of registered voters.
On Monday (24 April), members of the Electoral Affairs Commission for the Legislative Assembly Election made an inspection tour to new polling venues and to some used in previous elections, in order to evaluate facilities and arrangements at those places.
Venues visited included: the Northern District Public Services Centre at Areia Preta; the Macau Forum building; and some schools.
Major factors considered when selecting a polling venue were: convenience for voters; facility capacity; and the safety of the facility. Another important factor was ease of access for elderly voters and for people with special needs. The overall aim is to encourage voters to exercise their voting rights and duties on election day, set for 17 September.
Voters are advised to notify the Electoral Affairs Commission on or before 31 May, of their latest residential address. This is in order to ensure voters receive a poll notice from the Commission.
Commission stated that voters that did not provide an update of their address might be required to cast their vote at the polling venue nearest to their officially registered address. This requirement was because the Commission did not want to concentrate a large number of voters in just a few polling venues.
At the end of 2016, the number of natural person voters was 307,020, an increase of 10.78 percent, or 29,867 people, compared with the 277,153 natural person voters at the end of 2012. The number of legal person voters for the indirect election remained unchanged, at 858.
View gallery