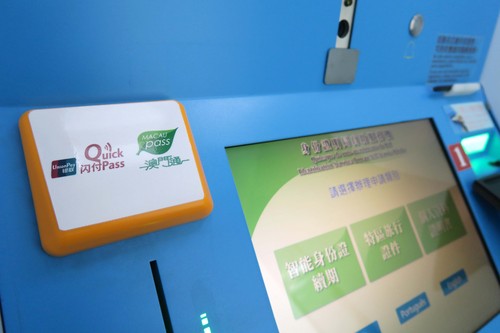 Identification Services Bureau self-service kiosks add electronic payment methods
In order to provide further convenience for citizens to lodge applications with self-service kiosks and achieve the whole self-service application process to be done electronically, the Identification Services Bureau has added electronic payment methods for all self-service kiosks which require citizens to pay application fees on a trial basis since the end of March in 2017. The operation on trial has been running smoothly. Starting from today, the electronic payment function of the above-mentioned kiosks is put into official use.
Citizens can use UnionPay QuickPass and Macao Pass to pay application fees at the self-service kiosks for applications for the Certificate of Criminal Record, renewal of permanent resident identity card, the Macao SAR Passport, the Macao SAR Travel Permit, the Visit Permit to HKSAR and the Certificate of Personal Data. The receipt of application will be printed at the self-service kiosk right after the payment. The application receipt printed at the self-service kiosk (see the attached picture) looks different from the application receipt issued at service counters, but both of them have the same effect. In addition, citizens can use other payment methods (such as cash and credit cards or debit cards issued by Bank of China Macau Branch or Banco Nacional Ultramarino) to pay application fees at service counters.
At present, all self-service kiosks and service counters accept citizens to pay the application fees with the above-mentioned electronic payment tools. For details about the functions and locations of self-service kiosks, please visit the website of the Identification Services Bureau (www.dsi.gov.mo/kiosk_e.jsp).
View gallery