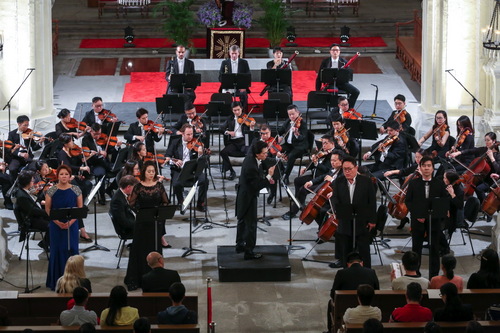 Easter Concert
The Macao Orchestra (OM), under the auspices of the Cultural Affairs Bureau, presented the "Easter Concert", part of the Orchestra's Maestros with Charisma series, at St. Dominic's Church on 15 and 16 April. Lio Kuok Man, a renowned conductor born and raised in Macao, collaborated with four outstanding Korean singers – soprano Michelle Juyoung Hong, mezzo-soprano Jung Mi Kim, tenor Charles Kim and baritone Paul Kong – to present a number of sacred musical pieces.
In the concert, the Macao Orchestra presented several sacred orchestral works including Barber's Adagio for Strings, Op. 11, Elgar's Serenade in E Minor, Op. 20, and Schubert's Salve Regina in A Major, D. 676/ Op. 153. Under the baton of Lio Kuok Man, four Korean singers collaborated with the Macao Orchestra for the first time to perform the excerpts "Tuba mirum" and "Pie Jesu" from Mozart's last composition, the Requiem Mass in D minor. The Orchestra concluded the concert with the piece Sheep May Safely Graze from Bach's Hunting Cantata, BWV 208, as an encore. The two performances attracted a total of nearly 500 spectators.
In addition,the Macao Orchestra will present the concert "Weekend Music Party – Musical Yoga" on Saturday, 22 April, at Dom Pedro V Theatre, fusing classical music and yoga and offering a relaxing experience for busy city dwellers. Tickets for the concert are priced at MOP120 and MOP100. Ticketing hotline: 2855 5555. For details and enquires about the programme, please contact OM through tel. no. 2853 0782 or visit the Macao Orchestra's website at www.om-macau.org.
View gallery