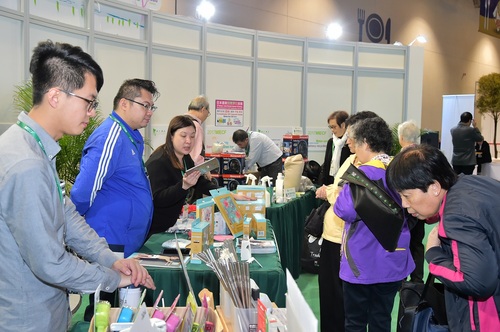 Booming sales at the "Eco-Market".
The final day of the 2017 Macao International Environmental Co-operation Forum and Exhibition (2017MIECF) was the "Green Public Day". Many members of the general public were attracted to participate in the latest edition of MIECF, an annual major event for the international environmental sector. The theme of the "Green Public Day" at 2017MIECF was "Let's Create a Green Environment – Cherish Food and Waste Less". The MIECF organiser aimed – via a series of environmental protection campaigns and education activities – to promote the concept of environmentally-friendly living and a low-carbon lifestyle.
A number of activities had been arranged for the "Green Public Day", including a lucky draw, green guided tours, environmental workshops and parent-child activities, while an on-site counter was set up for the registration of visitors in an "Eco Fun" initiative, in a bid further to publicise green messages. The four mascots of Macao's Environmental Protection Bureau, namely, "Mr Earth", "Brother Cloud" "Sister Flower" and "Baby Spoonbill", delivered on-site messages regarding the cherishing of food and about reducing waste of food, so promoting green living and environmentally-responsible behaviour in daily life.
The environmental workshops offered during the "Green Public Day" encouraged visitors to create 'green' decorative items or useful tools with guidance from instructors. Such items were made using waste materials common in everyday life, such as the recycled red packets featured in the Environmental Protection Bureau's (DSPA's) "Red Packet Recycling Project". Painting activities for parents and children were also arranged. With guidance from their parents, children used various colours of paint to represent distinct forms of environmentally friendly behaviour. They also learnt about recycling of waste paper, metals, plastics and batteries, as well as hearing how to cherish food and waste less.
The "Green Public Day" is an ideal platform to promote to Macao students and other young people the concept of environmental protection. During the event, visitors were briefed on the MIECF concept as well as on the zoning and special characteristics of the exhibition, in order to give them a deeper understanding of MIECF, to enhance their awareness of environmental protection, and to broaden the outlook of participants regarding environmental matters. The MIECF organiser joined hands with local entities to arrange more guided tours to the event venue and encourage more Macao residents to attend MIECF. During the "Green Public Day", guided tours for local educational institutions (i.e., universities, secondary schools and primary schools) attracted the participation of more than 650 teachers and students from 19 institutions.
In addition, the organiser set up an "Eco-Market" on the last day of 2017MIECF. In it, a total of 18 enterprises – 14 of them registered exhibitors at 2017MIECF – offered for sale green products for everyday use. Participating companies stated they were satisfied with sales, with some products quickly selling out, since some of the customers from previous years returned to buy their products. Representatives of some of the exhibitors said they were considering participating in a future edition of MIECF.
View gallery