Macao exploring economic ties with Hebei's Xiong'an New Area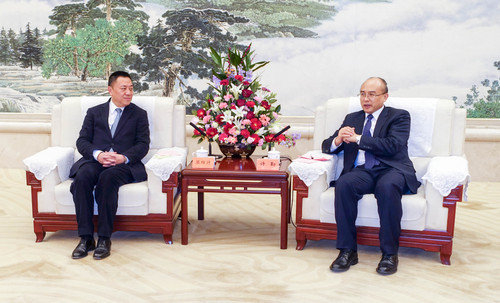 The Secretary for Economy and Finance, Mr Leong Vai Tac, meets the Governor of Hebei Province, Mr Xu Qin, during a visit to the Province.
Macao is looking forward to contributing to the country's strategy of coordinated development of the Beijing-Tianjin-Hebei Region, via the Xiong'an New Area, an economic zone in Hebei Province
Experience of developing the Xiong'an New Area would be an important reference point in the process of Macao's economic diversification, said the Secretary for Economy and Finance, Mr Leong Vai Tac, during a meeting on Thursday (8 February) in Hebei with the Province's Governor, Mr Xu Qin.
Mr Leong said the Chief Executive, Mr Chui Sai On, paid great attention to Hebei-Macao cooperation, in particular in promoting economic ties via the Xiong'an New Area, in order to achieve complementary benefits.
Macao strove to contribute to the nation's development, with a spirit of serving the country's needs and making use of the city's strengths, he added.
The city's participation in regional cooperation was a strategy for assisting in national development while strengthening the city's overall competiveness, said Mr Leong.
During the meeting, the two sides discussed cooperation in fields including investment, tourism and cultural affairs, as well as how to enhance people-to-people ties.
Mr Xu stated he welcomed Macao to take part in the development of Xiong'an New Area. He said the 2022 Winter Olympics would be held in Beijing and Hebei, adding that he looked forward to closer ties between Hebei and Macao in relation to tourism, cultural affairs and sports.
While in Hebei, Mr Leong also attended a seminar to learn more about the development of the Xiong'an New Area.
The Chief of Office of the Office for the Secretary for Economy and Finance, Ms Teng Nga Kan, accompanied Mr Leong to the meeting.
Hebei officials attending the meeting included: the Vice Governor, Mr Xia Yanjun, and the Secretary General of the Provincial Government, Mr Zhu Haowen.
View gallery
---
---