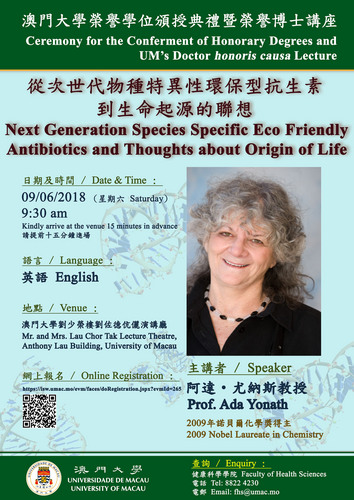 UM will confer the Doctor of Science honoris causa degree on Prof Ada Yonath next Saturday
The University of Macau (UM) on 9 June will hold the Ceremony for the Conferment of Honorary Degrees and UM's Doctorhonoris causaLecture. During the event, the university will confer the Doctor of Sciencehonoris causadegree on Prof Ada Yonath, a Nobel laureate in chemistry, in recognition of her contributions to biomedical sciences. In addition, Prof Yonath will give a talk titled 'Next Generation Species Specific Eco Friendly Antibiotics and Thoughts about Origin of Life'. All are welcome.
Some pathogens can develop antibiotic resistance so that antibiotics cannot stop their infection effectively. Therefore, it is very important to ensure the effectiveness of antibiotics for protecting our health. Prof Yonath made significant contributions to the improvement of existing antibiotics and development of new antibiotics. She will share her research results during the talk.
Prof Yonath is a world-renowned protein crystallographer best known for her pioneering work on the structure of ribosome. In 2009, she became the first Israeli woman out of her ten compatriot Nobel laureates to receive the Nobel Prize in chemistry, along with Venkatraman Ramakrishnan and Thomas A Steitz, for her studies on the structure and function of ribosome. She was also the first woman in 45 years to win the Nobel Prize in chemistry. In addition to the Nobel Prize, she has received many other honours and awards throughout her career, including the Albert Einstein World Award of Science in 2008, the Paul Ehrlich and Ludwig Darmstaedter Prize in 2007, and the Louisa Gross Horwitz Prize for Biology or Biochemistry in 2005.
The event will be held on Saturday 9 June, starting at 9:30am, in Mr and Mrs Lau Chor Tak Lecture Theatre, Anthony Lau Building, UM. It will be conducted in English. Those who are interested please register athttps://isw.umac.mo/evm/register/hd-yonath. For enquiries, please call 8822 8400 or email toprs.event@umac.mo.
View gallery