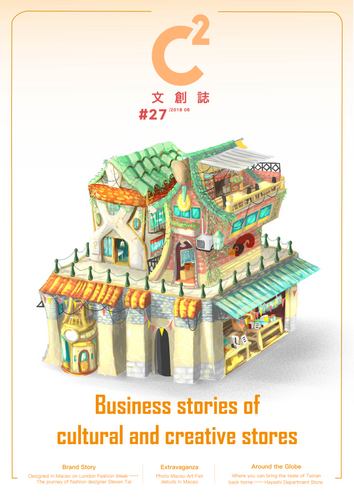 Twenty-seventh issue of C2 Magazine reveals stories behind the operation of cultural and creative stores
Published by the Cultural Affairs Bureau and produced by Like Entertainment & Production Co. Ltd., the twenty-seventh issue of C2 Magazine will be launched on 6 June (Wednesday). Although the development of cultural and creative stores in Macao has not yet caught up with those in the neighbouring regions, there are many cultural and creative practitioners working diligently here. In the section "Feature", the founders of A Porta Da Arte, M Dimensions and ROOFTOP MACAO are invited to share the experiences in operating the cultural and creative stores.
Macao designer Steven Tai founded his namesake brand STEVENTAI and published his works on the London Fashion Week for several times. In the section "Brand Story", he reveals how he brought the fashion design on the international stage. In the section "Extravaganza", the founder of the 1st edition of Photo Macau Art Fair, Cecilia Ho, was invited to talk about her experiences in organising the first art fair in Asia dedicated to photography and video art. Hayashi Department Store in Tainan is the department store with the longest history in Taiwan. Recent years, it was repaired and transformed into a cultural and creative department store. In the section "Around the Globe", General Manager Vicky Chen shares how Hayashi Department Store is revitalised and becomes a department store using culture and creativity as the main axis. In the "Blogs" section, seven columnists, namely Lo Che Ying, Tracy Choi, Lam Sio Man, Un Sio San, Ron Lam, Yap Seow Choong and Johnny Tam, share their unique perspectives on the development of the cultural and creative industries.
C2 is a bimonthly online trilingual magazine (in Chinese, Portuguese and English), issued on the first Wednesday every two months. The next issue will be launched on 1 August 2018. Readers are welcome to browse or download the magazine at www.c2magazine.mo. The email subscription function is now available. Simply click the "subscribe" button on the right corner of the magazine's webpage and enter your email address to receive regular information aboutC2 Magazine. For the latest updates, you may also visit the magazine's page on Facebook at www.facebook.com/c2magazine.macau, or on WeChat, by clicking "add friend" and inputting "c2magazine" in the ID column. For enquiries, please email to c2magazine.macau@gmail.com.
View gallery