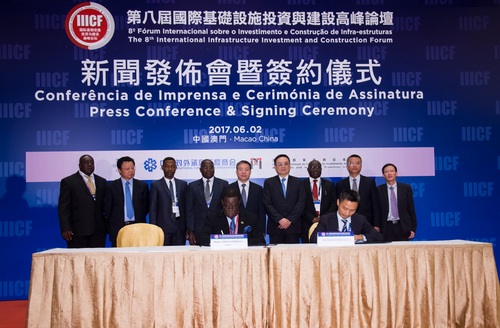 Past editions of the IIICF have successfully helped companies to establish co-operation across regions
The 9th International Infrastructure Investment and Construction Forum (IIICF) will take place in Macao on June 7 and 8. The past eight editions of the IIICF have facilitated the signing of a total of 54 co-operation agreements (contracts), part of which are already in implementation. Macao companies which have participated in the IIICF for several years consider IIICF an important platform for exploring business opportunities for its professionalism, good reputation and remarkable efficacy. Some enterprises express that their participation in the IIICF have helped them to upgrade and transform, and to better position themselves to articulate with global infrastructure development.
Agreements implemented by Macao enterprises in an orderly manner
According to Mr. Chan, representative of a construction and building materials development company in Macao, his company has participated in many past editions of the IIICF and stresses that he fully recognises the role played by IIIFC. He says that the IIICF has a clear position and is a prestigious national-level conference of the infrastructure sector. Most of the participants are decision makers and some are even policy makers, thus enabling the rapid progress of the related projects, and showing the high level of professionalism and influence of the IIICF. Mr. Chan adds that his company has already started a series of development projects in Mozambique, whose agreements were signed thanks to the intermediary role played by IIICF. Mr. Chan says that his company will continue to participate in the IIICF this year and is now developing close contacts with potential partners. So far, good progress has been made. Evidently, the IIICF has a profound influence on his company´s business expansion. He hopes that during the 9th IIICF he could exchange information with other companies on the market in the Portuguese-speaking countries, especially information related to Mozambique, to widen the scope of co-operation.
Mr. Ao, representative of a construction engineering company in Macao, says that his company participated in the IIICF for the first time in 2016 with the aim of assisting the company to upgrade and transform. At that time, his company successfully signed several major projects agreements with Ecuador, including the construction of 20,000 residential units and the 25-year BTO project of a water treatment plant with daily output of 50,000 cubic metres. At present, his company has already started the design and exploration for the related projects. He opines that IIICF has provided an excellent platform to enhance the company´s "soft power" and helps his company to go global. He adds that, in 2016, after participation in the IIICF, his company was fortunate to be invited to attend the United Nations Conference on Housing and Sustainable Urban Development, coordinated by Ecuador, where he successfully reached co-operation agreement with Sri Lanka and New Zealand. Mr. Ao says that his company will continue to participate in the IIICF as his company has successfully expanded their market in Southeast Asia through the IIICF.
Local enterprises being internationally competitive
According to Mr. Tang Hong Cheong, President of Macau Construction Association, in 2012, when the International Infrastructure Investment and Construction Forum was moved to Macao for the first time, Macau Construction Association already took the initiative to sign a memorandum of understanding with one of the IIIFC´s co-organisers from Mainland China - China International Contractors Association - and has since played an important role in promoting the economic and trade exchanges and co-operation between Mainland China and Macao. Since 2013, Macau Construction Association became one of the coordinators of the IIICF, and has witnessed the development of the said event and its organic combination with local companies. Mr. Tang believes that, as far as local companies are concerned, IIICF provides a good opportunity for Macao enterprises to look for infrastructure projects abroad and a good occasion for Macao to serve as the Economic and Trade Co-operation Service Platform between China and Portuguese-speaking Countries.
Mr. Tang saysthat, although local companies have insufficient human and financial resources when participating in international infrastructure projects, their participation in these projects is supported by the successivecompletion of a number of largeinternationalhotels, which involvesin-depth co-operation with management teams from around the worldand enablesMacao toaccumulate rich experience in management, together with the city´s other advantages, such as international perspective, multi-languageculture, international technical standards, andextensive networks with Portuguese-speaking countries, as well asprofessional legal teams from the said countries. Therefore, Mr. Tang hopes that the upcoming 9th International Infrastructure Investment and Construction Forum will help local companies to obtain even more financing opportunities to carry out a greater number of co-operation projects abroad.
View gallery