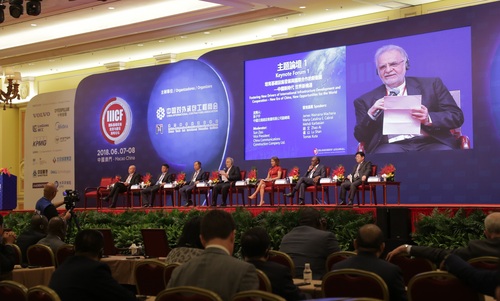 Participants at the thematic forums
With the theme New Growth Drivers for Better Infrastructure and Closer Connectivity. Two thematic forums were held on the first day (7 June) of the 9th International Infrastructure Investment and Construction Forum (IIICF). Ministers for infrastructure, management from financial institutions, international contractors and senior executives of professional organisations from Mainland China, the Belt and Road Initiative countries and Portuguese-speaking countries were invited to discuss how to make use of scientific and technological revolution to introduce new drivers of development in the new era abounding in new opportunities, to harness the opportunities arising from the Belt and Road Initiative and international infrastructure development, and join to hands with enterprises from all over the world to explore opportunities for common development.
On the afternoon of the first day of IIICF, two thematic forums were held respectively: "Cultivating New Driver for Infrastructure Development and International Cooperation - New Era of China, New Opportunities of the World" and "Cultivating New Driver for Infrastructure Development and International Cooperation - Innovation-driven Momentum". During the first thematic forum, participants discussed topics such as the background of co-operation between China and the Belt and Road countries, as well as the infrastructure plans and needs of these countries, especially in the fields of energy exploitation, road and transportation, electricity, network and wharf. A guest noted that Chinese investors should seize investment opportunities in the new era of China. Meanwhile, the forum looked into how to promote the concept of green architecture in the overall life cycle of construction through the co-operation of transnational value chains, and that the upstream and downstream parts of the industrial chains should work closely together to reach a common goal.
At the second thematic forum, the keynote speakers conducted many effective and innovative explorations and discussions on related fields such as the concept development, system and mechanism, business model, and science and technology. Technological innovations will take the infrastructure industry to a new era when highly efficient, eco-friendly and intelligent machines are mainstreamed. At that time, innovative construction solutions will surely reshape the future of infrastructure industry.
Manifestly, the two thematic forums explored every possibility to cultivate new drivers for infrastructure development and international co-operation through discussion on innovation-driven momentum, technological change and mode change. The Forum is of strong and practical significance. The 9th IIICF has made effective endeavour to lead enterprises around the world to attach importance to cultivating new momentum for their own development so as to gain new competitive advantages in the global infrastructure market, and promote the development and interconnection of international infrastructure.
View gallery