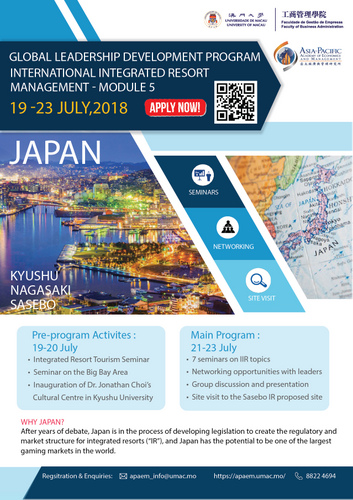 UM's global leadership development programme is now open for enrollment
Enrollment is now open for the fifth module of the Global Leadership Development Programme Series: International Integrated Resort Management, which is jointly organised by the University of Macau's (UM) Asia-Pacific Academy of Economics and Management (APAEM) and Faculty of Business Administration (FBA). The programme will take place in Kyushu and Nagasaki, Japan, from 21 July to 23 July. Scholars and industry experts from Macao and Japan will give lectures and exchange ideas with the participants during the programme. Industry practitioners are welcome to enroll for the programme.
The theme of the fifth module is 'Strategy, Growth and Responsible Gaming in Kyushu Integrated Resort'. The three-day module will be focused on the current development of integrated resorts in Japan. Participants will have the opportunity to learn theoretical knowledge from scholars from Macao and Japan, hear industry leaders share their experience and insights, go on site visits, and take part in group discussions and cultural exchange activities. This module is specially designed for senior executives working in international integrated resorts or the gaming industry; senior government officials; as well as scholars, researchers, senior consultants, and administrative personnel in related fields.
Every year, the APAEM organises a variety of executive development programmes and invites scholars and industry experts to give lectures on various topics, with the aim of nurturing more internationally competitive and socially responsible leaders for Macao and the Asia-Pacific region. The previous four modules, focused on hospitality and MICE, were successfully held in Macao, Hong Kong, Guangzhou, Singapore and Seoul (South Korea).
Interested parties may submit the completed enrollment form and required documents to the APAEM by 30 June. To learn more about the programme or to download the enrollment form, please visit the APAEM's website: http://apaem.umac.mo/. For enquiries, please call 8822 4694 during office hours.
View gallery