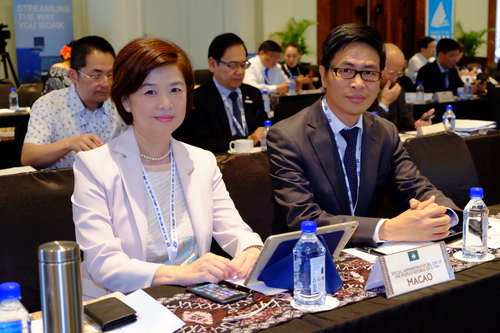 MGTO Deputy Director, Cheng Wai Tong, with MGTO Head of Communication and External Relations Department, Kathy Iong, in Fiji to attend UNWTO Asia Pacific region annual meeting and related events
Macao Government Tourism Office (MGTO) is attending the 30thjoint meeting of theWorld Tourism Organization (UNWTO)Commissions for East Asia and the Pacific and for South Asia, and related events, which started today (June 18) and run until Wednesday in Nadi, in the Fiji islands. The joint meetingisUNWTO´sprincipal annual event in the Asia Pacific region, gathering this year87top tourism officials and representatives from24countriesand regionsacross the region.
As tourism leaders come together for the 30th JointMeeting of the UNWTO CommissionforEastAsia and the Pacificand theUNWTO Commission forSouth Asia (30th CAP-CSA),a UNWTO regional seminar to examinethe effect of climate change on tourism developmentwas also held today in tandem with the meeting.
MGTO Deputy Director, Cheng Wai Tong, together with the Head of Communication and External Relations Department of MGTO, Kathy Iong, is in Nadi to attend the30th CAP-CSAjoint meeting, the regional seminar, along with technical visits.
The seminar ahead of the joint meeting openedwithremarksby UNWTO Secretary-General, ZurabPololikashvili, the Minister of Industry, Trade,Tourism, LandsandMineralResourcesof Fiji,FaiyazSiddiq Koya, among other officials. Named "Regional Seminar on Climate Change, Biodiversity &Sustainable Tourism Development", the programme of the one-day seminar included a high level dialogue among tourism leaders on "Howto Address the Issue of ClimateChange in Tourism Development" in the Asia Pacific region, followed by technical presentations onUNWTOprojectson biodiversity protection and sustainabletourism, along with panel discussions.
On Tuesday(June19), participants will gather together for the30th CAP-CSAjoint meeting, with the agenda including, among other topics, reports on the implementation of the programme of work and regional activities conducted over the past year. UNWTO Secretary-Generalwill also presenthis review of major tourism trends for2017-2018,as well asUNWTO's management vision and prioritiesahead,namely on how to move towardsUnited Nations'2030Agenda for Sustainable Development, making tourism smarter, more competitive and more responsible. Several UNWTO committees will alsoreview their activities during themeeting,includingthe Committee on Tourism and Competitiveness, andthe Committee on Statistics and Tourism Satellite Account,ofwhich"Macao, China"is the currentrepresentative of the Associate Membersof the organization.
Macaois an Associate Member of UNWTO since 1981, activelyparticipating over the yearsin events and projects organized bythe organization, with the aim to strengthen international tourism cooperation and enhancethe city'sprofile and engagementwith the world's topinternational tourism organization.
View gallery