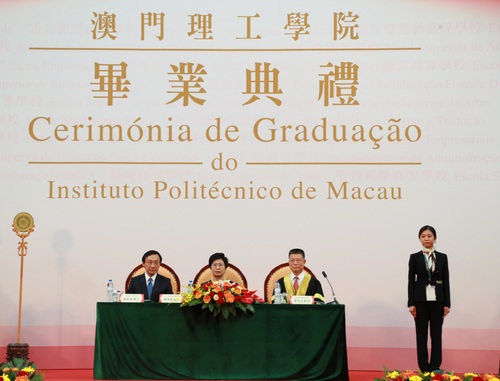 Acting Chief Executive Chan Hoi Fan, Secretary for Social Affairs and Culture and President of MPI officiating the graduation ceremony for academic year 2017-2018
Macao Polytechnic Institute held the graduation ceremony for the academic year 2017-2018, and 660 students were granted with a bachelor's degree. The ceremony initiated with a flag-raising ceremony accompanied by the national anthem, the first of this agenda at graduation ceremonies in Macao higher education institutions. Acting Chief Executive of Macao, Ms. Chan Hoi Fan, officiated the ceremony, and reiterated the SAR government's strategies of "Developing Macao with Education" and "Constructing Macao with Talents". She pointed it out that the SAR government committed itself steadfast to building an effective education system, improving supportive policies, and increasing resource input, by being firmly rooted in innovation; and to promoting education equality by benefiting all citizens with equal and practical access to education fruits, to realize social equality through education equality.
The graduation ceremony was held at the MPI Sports Pavilion in the afternoon of 28 June. Distinguished guests attended the ceremony included Ms. Chan Hoi Fan, Acting Chief Executive, Dr. Tam Chon Weng, Secretary for Social Affairs and Culture, Mr. Xue Xiaofeng, Deputy Director of the Liaison Office of the Central People's Government in the Macao SAR, Ms. Wang Dong, Deputy Commissioner of the Commissioner's Office of Ministry of Foreign Affairs in the Macao SAR, Mr. Liu ShuSheng, Deputy Commander of People's Liberation Army Macao Garrison, members of the Legislative Council, Directors of MPI academic units, representatives of government sectors and enterprises, principals of secondary schools. The distinguished guests, graduating students and their family members and friends, altogether 3,000 attendees for the exciting graduation ceremony, also enjoyed one Peking Opera periscope and sang in chorus the MPI anthem.
In her speech, the Acting Chief Executive Chan Hoi Fan stated that the SAR government was resolute in integrating efforts from all walks of life in the society to escort higher education to a new stage, treading on the heels of our motherland into a new era. When the revised Regulation of Higher Education was to come into force, it was right the opportune moment for the government to enhance system construction of higher education; to encourage higher education institutions to reinforce and innovate their local education-based traits and strengths and to nurture talents for Macao's economy of moderate diversity by bolstering up integration of production, teaching and research; to optimize teaching environment and facilities and support staff training for continuous improvement of teaching quality; and to strengthen campus safety and spiritual construction for a better environment to enable the young people to acquire knowledge, to cultivate virtues and to display talent. The SAR government would continue to support MPI to exploit its advantages of nurturing practical talents and support MPI in optimizing its educational review preparations and in promoting its overall quality, to provide more talents for "one centre and one platform" construction, regional cooperation and international exchanges. Ms. Chan urged the graduates to strive, to participate and to develop in the new era, actualizing their dreams and personal values with diligence and intelligence.
President Prof. Lei Heong Iok said in his speech that MPI became one favourable higher education institution among the local and overseas students, and had produced since 1999 about 18,000 graduates jointly or independently recruited by its 37 degree programmes including 22 bachelor degree programmes, 12 master degree programmes and 2 doctoral degree programmes. The success of MPI attribute to the guidance from the Macao SAR Government, concern from all sectors of society, and endeavour and cooperation from MPI staff and students. The achievements of MPI, one public higher education institution, mirror authentically the continual development and progress of higher education in Macao, as well as those of society, culture and economy in Macao, since its return to the Motherland. President Lei wished all the graduates a bright and promising future and anticipated more concern and support for talent-training from the society.
Graduate representative, Marcelino Luís do Rosário Sousa of Chinese-Portuguese Translation and Interpretation Programme, recollected his life in MPI in his speech of thanks, and deemed the institute a platform of pursuing dreams with its open, diverse and challenging school culture. He expressed, on behalf of the graduates, his gratitude to the MPI teaching staff for their edification, to the family members of graduates for their support, and to the SAR government for its continuous concern about higher education and university students, and his resolution of working at his best to make contributions to the society.
Dr. Tam Chon Weng, Secretary for Social Affairs and Culture conferred degrees on the outstanding graduates.
View gallery