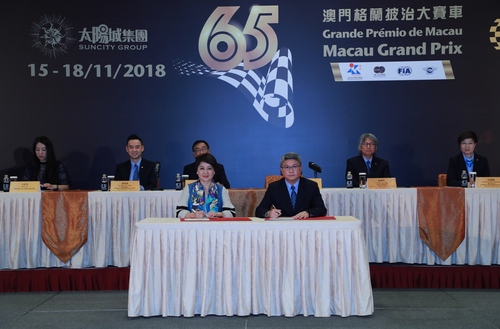 Mr. Pun signed title sponsorship agreement with Ms. Leong
SJM announced as Macau GT Cup – FIA GT World Cup race title sponsor
FOOD4U makes debut as Macau Touring Car Cup title sponsor
65th running of Grand Prix to be marked by a variety of activities
Organizers of the Suncity Group 65th Macau Grand Prix, which will run from 15-18 November 2018, held a press conference today (July 5th) at the Macau Tower Convention & Entertainment Centre to announce updates for this year's event.
The press conference was attended by: Mr. Pun Weng Kun, President of the Sports Bureau of the Macao SAR and Coordinator of the Macau Grand Prix Organizing Committee (MGPOC) ; Mr. Charles Lo Keng Chio, President of the General Assembly of the Automobile General Association of Macao-China; Mr. Chong Coc Veng, Board of the Directors of the of Automobile General Association of Macao-China and Coordinator of Sporting Subcommittee of MGPOC; Mr. Allen Lau Cho Un and Ms. Christine Lam Lin Kio, Deputy Coordinators of the MGPOC; Ms. Gina Lei, Senior Vice President Corporate & Community Relations of Suncity Group; Ms. Angela Leong, Managing Director and Chief Administrative Officer of Sociedade de Jogos de Macau, S.A. (SJM); and Mr. Lei Weng Fai, Chief Executive Officer of FOOD4U.
During the press conference, Mr. Pun signed title sponsorship agreements with Ms. Leong and Mr. Lei respectively which see long-time supporter SJMcontinue its involvement with the Macau GT Cup, the official FIA GT World Cup for the fourth consecutive year, and online food delivery platform FOOD4U as the new title sponsor for the Macau Touring Car Cup.
As part of a series of events to celebrate the 65th anniversary of the Macau Grand Prix in November, the MGPOC announced a Macau Grand Prix Family Carnival(3-4 November), the Macau Grand Prix Opening Ceremony and Car Show(10-11 November), and the 65th Macau Grand Prix Celebration Guia Circuit Fun Run(11 November). Other events include a campaign to collect and display 65th MGP-themed photos and video submitted by residents which will begin in September, providing an additional opportunity for the community to share in the atmosphere of the event.
Tickets for the Suncity Group 65th Macau Grand Prix are on sale now. Prices remain unchanged from 2017, and range from MOP50 for the November 15 and 16 practice days to MOP350-900 on race days, depending on the grandstand.
Further information can be found by visiting the official Macau Grand Prix website at http://www.macau.grandprix.gov.mo or by downloading the mobile applications.
View gallery