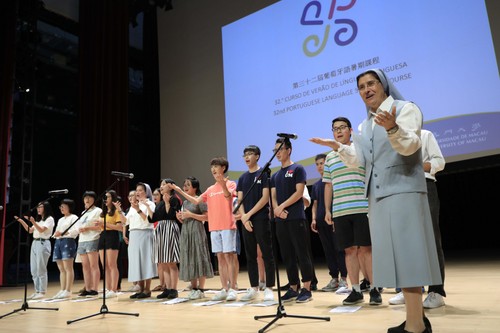 UM's Portuguese Language Summer Course creates a good language learning environment
The University of Macau (UM) Department of Portuguese today (3 August) held a closing ceremony for the 32nd Portuguese Language Summer Course. The three-week intensive course attracted 460 students of different cultural backgrounds from more than ten countries and regions. Under the guidance of 23 Portuguese-speaking teachers, the students studied together and communicated with each other in Portuguese. Participants are very happy with the course, saying that UM provides a very good environment for learning Portuguese, and that the course not only improved their daily conversation skills in Portuguese, but also enhanced their understanding of the cultures of Portuguese-speaking countries.
This year's course attracted a record number of students from Australia, the United Kingdom, France, India, Japan, South Korea, Singapore, the United States, mainland China, Hong Kong, Macao, and Taiwan. In his speech, Rector Yonghua Song said that Macao plays the important role of a 'bridge' linking China and Portuguese-speaking countries. Therefore, UM is dedicated to promoting the studies of Portuguese language and culture as well as the training of Portuguese language professionals. This year's course continued to place an emphasis on increasing students' understanding of Macao's history and Portuguese culture. He hopes participants in the course will keep in touch with UM and engage in more academic exchanges with the university.
At the closing ceremony, students showcased what they had learned from the course. Some gave speeches in Portuguese, while others dressed in Portuguese costumes from different regions of Portugal performed Portuguese songs and folk dances. Jessica Xavier, a Macao-born Portuguese who travelled all the way from California, United States, to Macao to attend this course, says she has benefited greatly from the daily four-hour Portuguese learning in the course, which helped her master everyday Portuguese expressions and better integrate into the local Portuguese community, adding that she enjoyed learning Portuguese at UM. Another student, Hector SungHyun Park, from Hankuk University of Foreign Studies, is also very satisfied with the three-week intensive training, saying that UM created a very good learning environment that allowed him to communicate with students from different countries in Portuguese. He adds that the course greatly improved his Portuguese language skills and will help him realise the dream of one day interviewing the famous Portuguese professional football player Cristiano Ronaldo in fluent Portuguese.
Launched in 1986, the Portuguese Language Summer Course aims to train bilingual language professionals and promote Portuguese language and culture, through well-designed courses tailor-made to suit the proficiency level and characteristics of the students. Over the past 32 years, the course has graduated many bilingual professionals for Macao and other countries and regions in the world. This year's course included six levels, namely beginners, basic, intermediate, advanced, superior, and translation in Chinese/Portuguese, exposing students to the cultural diversity and complexity of the Portuguese language.
View gallery