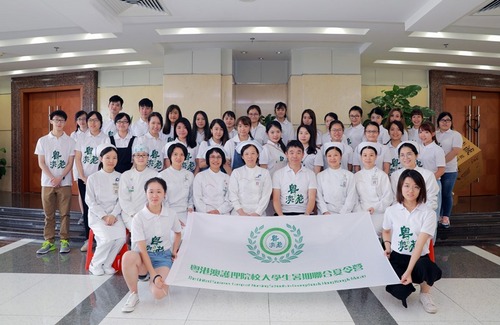 MPI Students Participated in the Greater Bay Area Nurse Camp
During summer vacation, the School of Health Sciences and Student Affairs Office of Macao Polytechnic Institute (MPI), and the Sun Yat-Sen University (SYSU) co-organised the "2018 Guangdong-Hong Kong-Macao Summer Nurse Camp" with the theme of "Learn Lingnan Culture, Discover the Essence of Nursing". Approximately 20 MPI students, together with students from China and Hong Kong, gathered at SYSU in Guangzhou to participate in the 2-week nurse camp.
Founded by Dr. Sun Yat-Sen, SYSU is a first-class modern comprehensive university in China with distinctive advantages in medical sciences, and there are 10 hospitals affiliated with the university. For the purpose of enhancing students' understanding of the nursing education in China, and the history of Lingnan humanities and culture, there were lectures organised during the nurse camp on the topics of "The Status of Nursing Education in China" and "Lingnan History and Culture", as well as arranged visits to the Guangdong Museum, Haixinsha Asian Games Theme Park, the Museum of Dr. Sun Yat-Sen and Zhongshan Zhan Park. Teachers and students of Hong Kong and Macao also introduced the developments of nursing education in Hong Kong and Macao, thus promoting the professional exchanges in the field of nursing among Guangdong, Hong Kong and Macao. MPI students were given the opportunity to do practical training at the First Affiliated Hospital and Cancer Center of SYSU, to enrich their knowledge and clinical experience of medical science and nursing. Moreover, MPI students went to the No.71 Middle School of Guangzhou to provide first aid teaching service in English to approximately 200 middle school students.
Student Choi of the MPI Nursing programme said that through participating in this nurse camp, her understanding of the new concepts in the fields of education and management of modern nursing had been deepened. She also benefited a lot and learned about the knowledge of radiotherapy and chemotherapy by visiting the Hematopoietic Stem Cell Transplantation Ward. Student Chao felt both excited and nervous to be a volunteer teacher. However, while looking at the middle school students who study earnestly, she realised the responsibility and fulfillment of being a teacher. She put a lot of effort into preparing the lessons and teaching in class, and therefore earned the Guangzhou middle school students' approval and friendship.
MPI indicates that based on past experience, this year's nurse camp not only provided opportunities for students to understand the development of nursing professions, the scale of tertiary hospitals and the practical operations of nursing staff in China, but also highlighted the element of Lingnan culture to enhance students' understanding of the value of Lingnan culture and the cultural cohesion of the Greater Bay Area. Therefore, the summer nurse camp was able to bring great benefits to cultivate students' professional nursing skills and promote the cultural exchanges among students in the Greater Bay Area.
View gallery