It was spring 2013 when, challenged by mutual friends, a group of boys with a passion for music came together to form the band "Os Quatro e Meia". Ever since its formation, the band has promised unforgettable nights of music, bringing audience everywhere to its feet.
With the sound of guitar, bass, violin, accordion, mandolin and percussion, the band combines a variety of Portuguese music, from pop-rock to fado, in an attempt to impart new sonorities and perspectives to some of the most beautiful songs written in Portugal.
The debut album Pontos nos Is, released in 2017 under the label Sony Music Entertainment Portugal, skyrocketed to the top of the national charts for best-selling albums. After its successful debut at the Coliseu do Porto in 2018, Os Quatro e Meiahas subsequently performed in Casa de Música in Porto, Teatro Académico Gil Vicente in Coimbra, Centro Cultural Olga Cadaval in Sintra, and a concert at Coliseu dos Recreios, in Lisbon, is scheduled for October this year.
Duration: Approximately 1 hour and 15 minutes, no interval
Programme Highlights
A Terra Gira
Não Respondo Por Mim
P'ra Frente É Que É Lisboa
O Tempo Vai Esperar
Baile de São Simão
(Subject to change)
Pedro Figueiredo, Percussion
Rui Marques, Bass
Ricardo Almeida and Tiago Nogueira, Vocals and Guitars
Mário Ferreira, Vocal, Accordion and Keyboard
João Cristóvão, Violin and Mandolin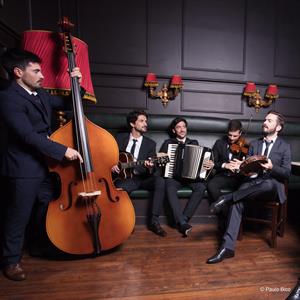 ---