Performing Arts Gala will once again be launched at the Iao Hon Market Park, bringing a range of wonderful performances to adults and children in three consecutive nights. These include a dance show expressing the love and lyricism in the poetry of Portuguese poet Luis de Camões, a passionate and striking Capoeira performance and Cantonese opera excerpts performed by children and youth radiating the genre's lingering charm.
The little puppets from a magical acrobatic troupe will try their best to perform, and the little frog from an ink wash painting will witness this magical moment. Furthermore, there will be a variety of music shows for both adults and children to enjoy.
Aside from performances, there will be a Children's Story World and Art Exploration Workshop on the spot, encouraging children to experience beauty of arts through storytelling and related workshops. Come enjoy together some happy and wonderful artistic moments!
Participating Units (In alphabetical order)
Capoeira Sports and Cultural Association of Macau
Casa de Portugal em Macau
Hou Kong Secondary School Marching Band
Ieng Chi Dance Association
Macao Conservatory
Macao Museum of Art
Macao Public Library
Sam Kin Hang
The Concert Band of Sheng Kung Hui Choi Kou School Macau
Duration: Approximately 2 hours and 30 minutes, no interval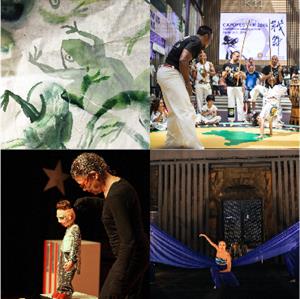 ---