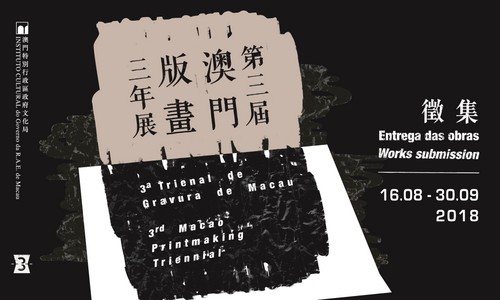 "3rd Macao Printmaking Triennial" - call for submissions of works
Applications for the "3rd Macao Printmaking Triennial", organised by the Cultural Affairs Bureau, can be submitted from today (16 August) until 30 September. All interested artists from all over the world are welcome to participate in this Triennial
In order to promote the development and exchange of printmaking in Macao, the Cultural Affairs Bureau held the 1st Macao Printmaking Triennial in 2012, which was well received by local and foreign artists. This year, the Cultural Affairs Bureau organises once again this international printmaking exhibition, the "3rd Macao Printmaking Triennial", aiming to improve this printmaking exchange platform and encourage the combination of more cultural and artistic elements in the art of printmaking. Gold, silver and bronze Prizes as well as several Honourable Mentions will be awarded, in order to encourage and attract the participation of outstanding works from all over the world.
There are no restrictions as to the printmaking types and production techniques. Works must have been produced in the last three years and must have not been exhibited in previous editions of the Macao Printmaking Triennial. The size of the works on paper must not exceed 1m2, and each applicant may submit a maximum of two works. The works must not be mounted and should be submitted in scroll by mail to the following address: No. 517, Avenida da Praia Grande, Nam Tung Commercial Building, 19th floor, Macao. The Organizer will invite a number of renowned experts and printmakers from China and other countries to form a panel of judges. The assessment will be made in October and the list of selected works will be announced at the beginning of November, and it is anticipated that the exhibition will be held at the end of December.
Rules and regulations as well as application forms can be downloaded at the Cultural Affairs Bureau website at www.icm.gov.mo/printmaking/2018, or obtained at the Cultural Affairs Bureau Building, at the Macao Museum of Art, at all branch libraries under the Macao Public Library and the Division of Visual Art. For enquiries, please contact IC though email printmaking@icm.gov.mo.
View gallery