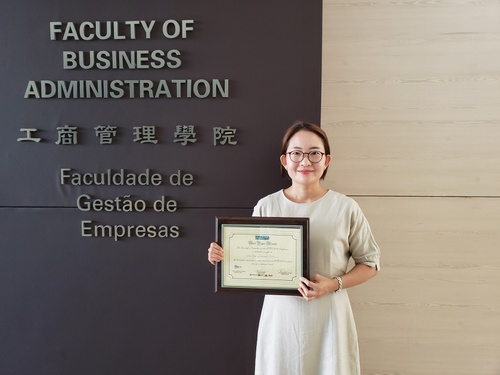 UM scholar's co-authored paper receives Best Paper Award
Jacey Choe Jayoung, an assistant professor of international integrated resort management from the Faculty of Business Administration, University of Macau (UM), recently received the Best Paper Award at the Eighth International Conference on Tourism (ICOT), for her paper titled 'Understanding Food Tourists' Hierarchical Consumption Value Maps'. The paper is co-authored by Jacey Choe and Oh Munhyang from the School of Hotel and Tourism Management at the Hong Kong Polytechnic University.
The paper identified important attributes, consequences, and values of local food as perceived by tourists, and investigated the hierarchical value maps for consuming local food in a destination based on the means-end chain theory. This paper provides a wealth of useful information for food tourism professionals to boost local food consumption among tourists.
Held in Greece, the ICOT 2018 attracted tourism professionals, academics, policy makers, consultants, government officials, and postgraduate students, who exchanged ideas on various topics related to tourism. Presented by the International Journal of Tourism Policy, the Best Paper Award honours the author(s) of a paper with exceptional merit that has been accepted and presented at the conference. Award recipients are selected by the scientific committee.
View gallery