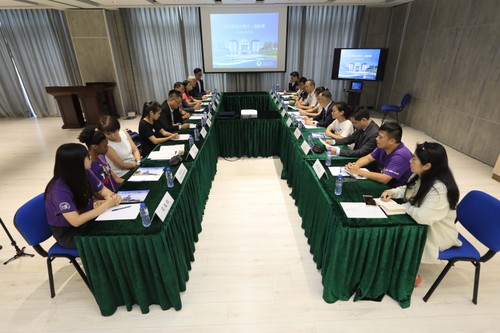 UM holds a seminar on poverty alleviation in Guizhou through education
The University of Macau (UM) today (21 August) held a seminar for students from poor families in Congjiang county, Guizhou province, to help them get used to the new learning environment. UM Rector Yonghua Song says that UM firmly supports China's policy for poverty alleviation and has been playing an active role through education. During the summer holiday, UM faculty members and students visited Congjiang to participate in service learning programmes and held a fundraising activity for students from the county.
To support the Macao SAR government's policy to alleviate poverty in Guizhou province, the Macao Foundation awarded scholarships to students from poor families in Congjiang to study at UM. Song says that China attaches great importance to poverty alleviation. As a public university, UM takes it upon itself to play an active role in poverty alleviation in China through education. He encourages the students from poor families to study hard in order to change their lives and give back to their country and home towns.
Wu Zhiliang, president of the Board of Directors of the Macao Foundation, and Sou Chio Fai, director of the Tertiary Education Services Office, encourages the new students to study hard, be confident, and adjust to the new environment as soon as possible, adding that they should seize the opportunity of studying at UM and make the most of UM's faculty team and learning environment, in order to become exemplary role models for their counterparts in Congjiang.
Chen Guoqi, a student of electromechanical engineering from Congjiang, is grateful to the Macao Foundation and UM for giving him an opportunity to study at UM. Liang Yuyan, another student from Congjiang, who is a history major, says that studying at UM is an opportunity she wouldn't have imagined in her wildest dreams, adding that UM provides a very good environment for speaking English and is an institute with a mix of Chinese and western cultures. She thanks UM faculty members and students for their support and care, adding that she will study hard in order to give back to society.
During the summer holiday, faculty members and students from UM's Cheng Yu Tung College visited four primary and secondary schools in Congjiang learned more about challenges facing schools in Congjiang. The students held a fundraising activity for the students in Congjiang. The college plans to organise another volunteer teaching trip to Congjiang this December.
Guests attending the seminar included Hong Bo, representative of the Liaison Office of the Central People's Government in the Macao SAR; Sit Weng Tou, representative of the Education and Youth Affairs Bureau; Paul Pang, dean of students of UM; Wong Kei, director of the Rector's Office; Katrina Cheong, director of the Communications Office of UM; and Elvo Sou, head of the Student Counselling Section of UM.
View gallery