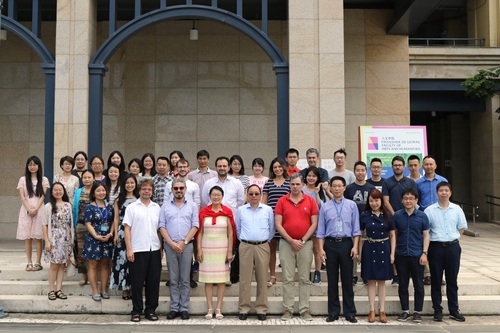 UM hosts a research boot camp on translation and cognition
The University of Macau (UM) Faculty of Arts and Humanities (FAH) recently hosted the Momento Boot Camp 2018 – a one-month research camp gathering nearly 30 researchers from 11 countries and regions, who worked together on a research project led by FAH professors and made significant progress. It is believed that the boot camp will pave the way for fruitful research in the next few years.
The camp gathered nearly 30 researchers from Germany, Denmark, Brazil, Australia, the United Kingdom, Portugal, Spain, Ireland, mainland China, Hong Kong, and Macao. They worked together for one month on 'Modelling Parameters of Cognitive Efforts in Translation Production in Relation to Translation Universals', a project sponsored by UM's Multi-year Research Grant. The project seeks to develop an integrated cognitive model of the translator's mind based on empirical evidence, which is to be validated through a broad range of parameters using various approaches and tools, including the corpus approach, keylogging, eye tracking, and neuroimaging.
The project is associated with a UM-wide cross-disciplinary research project titled 'Neuroscience, Big Data and Artificial Intelligence', which is led by Vice Rector (Academic Affairs) Lionel Ni. Addressing the boot camp participants, Prof Ni said that translation is an important subject at UM while cognition and artificial intelligence is one of the niches UM is developing. With scholars from 11 countries and regions working with PhD students from the FAH on this project, he believes the boot camp will deliver fruitful results. FAH Dean Prof Hong Gang Jin said that this international collaboration was initiated more than two years ago and she is happy to see it come to fruition. She added that the participants have gone through the standard process of collaborative research – conceptualization and planning, and reached the implementation stage today. The next steps will be evaluation and dissemination.
During the four-week camp, participants of the boot camp updated each other on state-of-the-art research tools, explored and developed new research methodologies, identified and resolved technical issues, and wrote reports in groups. Significant progress has been made in incorporating Asian languages into the system originally developed by European scholars. Outcomes of the boot camp will be presented at the Fifth International Conference on Cognitive Research on Translation and Interpreting to be held at Renmin University, Beijing in November this year. Other expected outcomes of the boot camp include co-authored journal articles and a book. Prof Li Defeng, director of the FAH's Centre for the Studies of Translation, Interpreting and Cognition, believes that the boot camp and its deliverables will help translation studies go beyond Eurocentrism.
Participants were arranged to stay in UM's Cheng Yu Tong College, which provided them with a friendly and pleasant environment, facilities, and an opportunity to experience the residential college at UM. Prof Victoria Lei, associate professor from the FAH and principal investigator of the project, expressed gratitude and attributed the smooth running of the research boot camp to the support from UM's administrative staff, without which the Momento Boot Camp would have been impossible.
The collaborating universities include Johannes Gutenberg University Mainz in Germany, Durham University in the United Kingdom, the Federal University of Minas Geras in Brazil, the City University of London in the UK, Copenhagen Business School in Denmark, and Renmin University of China.
View gallery