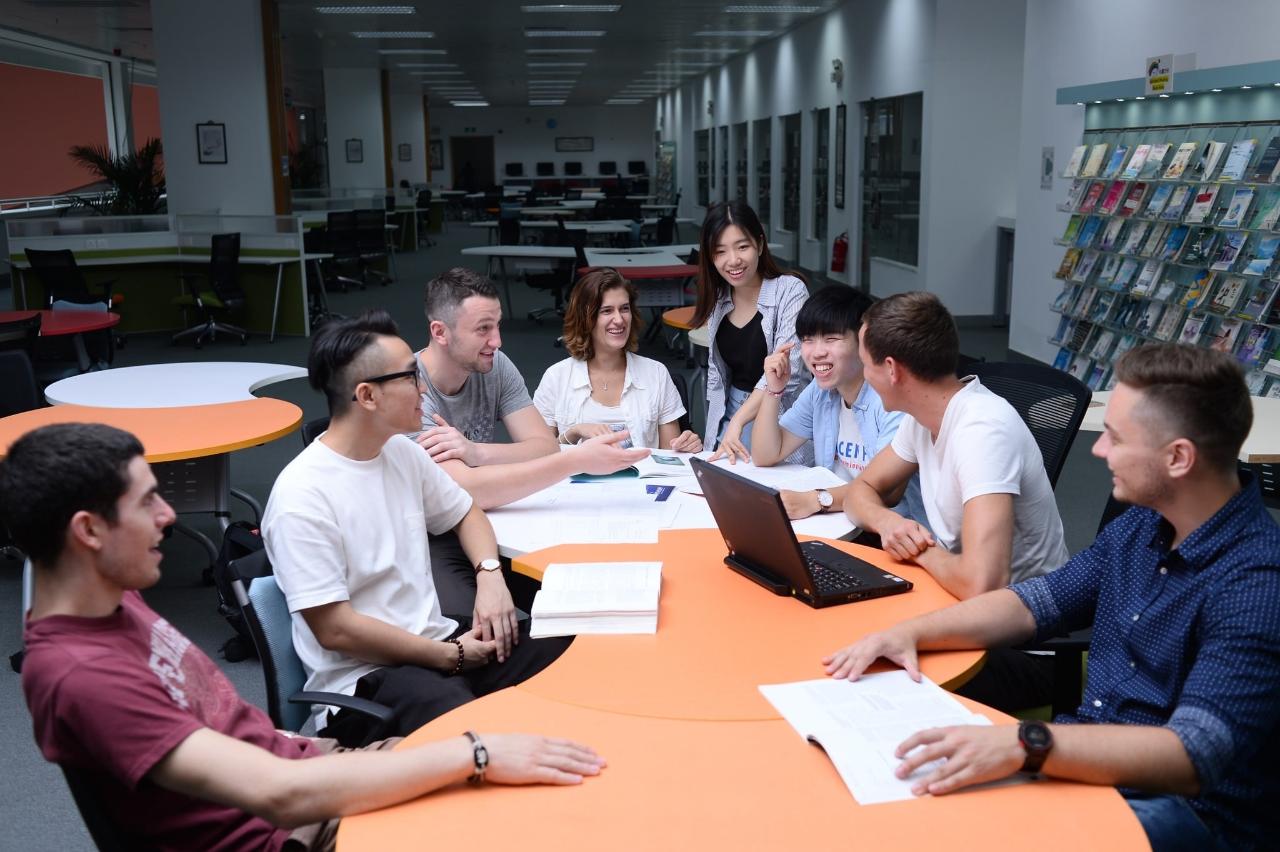 UM is a magnet for international students
The numbers are telling the same story: the University of Macau (UM) is a university with a high degree of internationalisation. More than 80 per cent of its faculty members are from overseas. It has partnerships with over 220 academic institutions in 32 countries. Its students come from different corners of the world, drawn by the English-speaking environment. In the 2019 Times Higher Education World University Rankings, it secured an impressive 5th spot in international outlook, in addition to being ranked among the top 400 overall.
Academic Programmes Meeting Global Trends
A rising international reputation may attract initial interest, but what truly sustains enrolment is the quality academic programmes the university offers. According to UM's Vice Rector (Global Affairs) Rui Martins, not only does the university continuously improve the contents of the programmes to increase their competitiveness and keep pace with the fast-changing society; it also actively seeks to increase its degree of internationalisation and enhance the quality of its teaching and research through regional collaboration and international partnership. Some programmes offered by the university have gained international recognition and accreditation. For instance, several undergraduate programmes offered by the Faculty of Science and Technology have been recognised by members of the Washington Accord (including the United States, the United Kingdom, Canada, Japan, and Russia). The Faculty of Business Administration has performed equally well in this respect, with several undergraduate programmes having gained accreditation from international professional bodies, and more accreditations to be expected in the future.
Prof Martins attributes the appeal of UM's academic programmes to their meeting global trends. He says, 'Every year, we receive applications from students in different parts of the world, especially Portuguese-speaking countries and ASEAN countries. They mostly choose programmes in engineering and law. They are eager to learn and want to use the knowledge they acquire here to serve their home countries.' Prof Martins says that UM will offer various scholarship and sponsorship programmes to attract outstanding students from Portuguese-speaking countries and countries along the Belt and Road route, in line with the policies of the central and Macao SAR governments, in order to encourage more students to contribute to the Belt and Road Initiative and the development of Macao into a world centre for tourism and leisure as well as a service platform for business collaboration between China and Portuguese-speaking countries.
Building a Knowledge-based Business Platform
Manuel RoDirigues De Veiga, a law major from the Republic of Cabo Verde, obtained his bachelor's degree from UM this June and chose to stay at UM for further studies. He says, 'UM is like my second home. It has excellent faculty members and teaching facilities. Studying here is like savouring a cocktail, because you meet people from many different nationalities.' Several years ago, Veiga was admitted to UM on a scholarship for his outstanding academic performance, thus beginning a new chapter in his life. He explains that the legal systems in Macao and Cabo Verde are both based on the Portuguese law, with close similarities in language and logic. He plans to pursue a career in e-business after graduation. Specifically, he wants to build an e-platform in Macao to facilitate business activities between China and Cabo Verde, so knowledge of business laws in both places will be a great advantage.
Colourful Life at UM
Ngooi Khang Jer, a second-year student from Malaysia, set his heart on UM's programme in international integrated resort management while he was still in secondary school. He was interested in programmes in business and service management, so he attended lectures on overseas studies and consulted his teachers' opinions to obtain more information. In the process, UM emerged as an attractive option. After comparing UM to some candidate universities in Taiwan and Hong Kong, he decided to choose UM. He says, 'UM is a rising university. Many of its programmes are very competitive globally, with some ranked among the best in the world, including the programme I am studying.' He praises UM for its commitment to quality education, its various laboratories that allow students to put their knowledge into practice, and its excellent faculty members who enjoy interacting with the students and are good at explaining complicated concepts in simple language. An active participant in the activities organised by his faculty, residential college, and the Students' Union, he looks forward to studying in a foreign country for six months next year to experience a different culture.
The Student-centred Approach
Ng Jia Ying, a third-year student of biomedical sciences from Malaysia, likes the student-centred approach at UM as opposed to the traditional method that is rigid and inflexible. She credits the innovative teaching methods at UM with turning her into a self-driven learner. She once took a general education course in the history of the Holocaust by Prof Glenn Timmermans from the Faculty of Arts and Humanities. She says, 'The course explores the relationship between the evolution of mankind and human nature. Prof Timmermans raised many penetrating questions and encouraged us to find answers to them. He also required us to look for information online after class. I think this teaching method suits this course perfectly, and we learned a great deal from it.'
Like the United Nations
MD Shakhawat Hossain Shuvoraj from Bangladesh studies in the Department of Computer and Information Sciences. He never regrets leaving his home country to study at UM. 'I was looking for a young university with a high degree of internationalisation, and UM fit the bill perfectly,' he says. Shuvoraj and several like-minded students established a society for international students under the Students' Union to help foreign students integrate into their lives in Macao. Shuvoraj enjoys his life at UM and often takes part in extracurricular activities. For instance, he and several friends formed a team to attend the meeting of the Model United Nations at UM. He is also a member of the Magic Society. Hanging out with students from different countries and cultural backgrounds helps him relieve stress. 'Although we come from different cultural backgrounds, we are like one big family,' he says.
View gallery