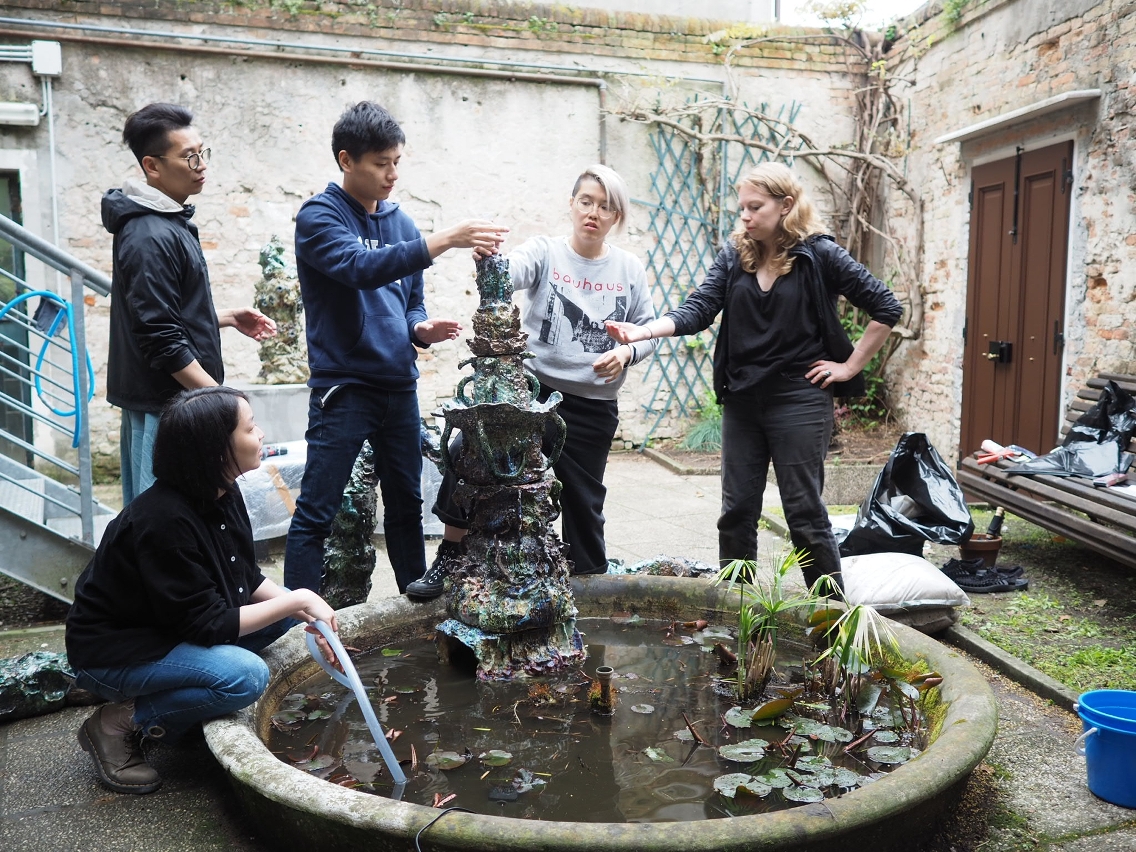 Exhibition "Apparition" by Heidi Lau at the "58th International Art Exhibition of La Biennale di Venezia"
Organised by the Macao Museum of Art (MAM, from the Portuguese acronym), under the auspices of the Cultural Affairs Bureau, the Macao-China Pavilion will be inaugurated on 9 May (Thursday) at the 58th International Art Exhibition of La Biennale di Venezia in Venice, Italy. The exhibition of the Macao-China Pavilion entitled "Apparition" will showcase 10 pieces/sets of ceramic installations by Macao's young artist, Heidi Lau, aiming to "apparate" the "invisible" Macao in response to the theme of this year's La Biennale, "May you live in interesting times". The works that constitute the Macao exhibition have been sent to Venice and the curator Lam Sio Man, artist Heidi Lau and the exhibition team of the MAM have also arrived to set up the exhibition, hoping to leave the audience with the best impression.
The exhibition is divided into four themes, namely "Apparition I: Primitive Memories", "Apparition II: The Ancestral House", "The Contemporary Moment: Learning from Casino", and "Reflective Nostalgia: The Old Recreation Garden", taking the audience on a journey to a world of forgotten spirits and beliefs from an artistic perspective through the exploration of Lau's childhood memories.
"Apparition", derived from the Latin word "apparere" meaning "appearance", refers especially to the manifestation of a supernatural existence, and was originally used to refer to the epiphany of the Son of God. The name alludes to the intricate historical relationship between Macao as the "City of the Holy Name of God" and its gambling industry, and aims to deconstruct the oversimplified impressions of Macao. Lau attempts to reveal Macao's complex identity and history in the style of classical Chinese supernatural fiction. Her works resemble the crumbling remains of historical relics and feature images of Taoist and folk mythologies, engaging the audience in profound reflection with her bizarre and extraordinary interpretation.
This is the seventh time Macao has participated in La Biennale di Venezia since 2007 on the invitation of the organiser. Since then, it has been striving to introduce representative contemporary artworks from Macao to the international art scene. Artworks by 15 Macao artists have been showcased at the event.
The exhibition "Apparition" is held until 10 November, daily from 10am to 6pm (local time), and is closed on Mondays. The exhibition hall is located in front of the Arsenale, the Biennale's main building, with address at Arsenale, Campo della Tana, Castello 2126/A, Venice, Italy. For more information, please visit www.MAM.gov.mo.
View gallery