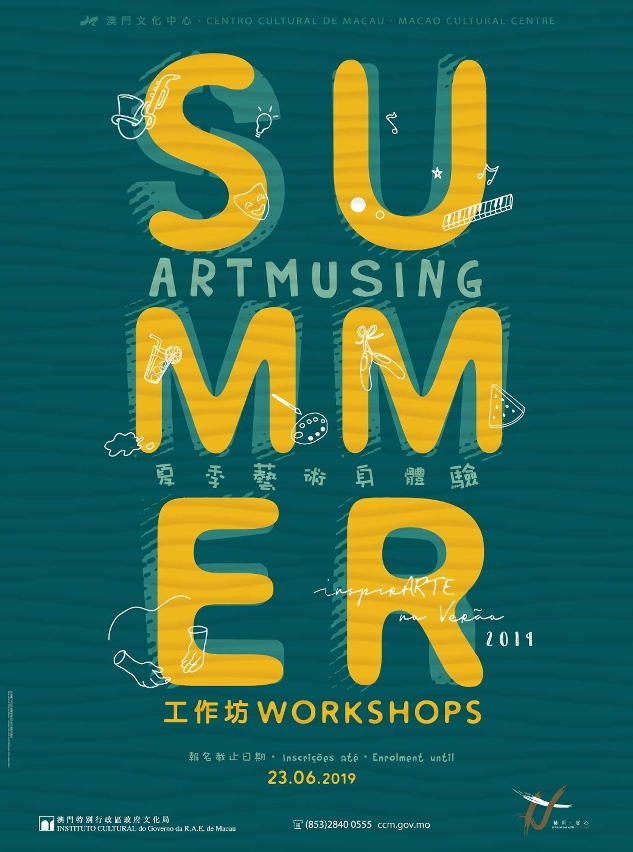 Summer Workshop 2019 Series Theme
The Macao Cultural Centre, under the auspices of the Cultural Affairs Bureau, presents the ARTmusing Summer workshops, a series of activities conceived for all tastes and ages, from babies and children to parents and youth, without forgetting the seniors. The coming edition is hosted by experienced artists coming from Spain and Hong Kong who will be joined by Macao professionals. Challenging creative minds, the series stimulates participants' interests in the performing arts throughout the holiday season.
A set of Children's Workshops will take the kids through an array of different themes, ranging from an orchestral instruments workshop designed to familiarize kids with the classical music world, to puppetry and modern dance. Besides, some of the young artists will have a real opportunity to test and showcase their skills by joining short presentations. This edition will include a body and mind journey specifically tailored to extend the creative boundaries of kids with special needs.
And to strengthen kinship, CCM will be hosting new specially designed Family Workshops, inviting parents and their babies to explore a sensory world, besides a variety of artistic proposals for everyone, from storytelling, clowning and music workshops .
This edition does not forget the teenagers, who will have the chance to join an adventurous musical workshop or stretching their boundaries in a physical movement class, both available in the coolest Youth Workshops.
The project is completed with proposals designed for more experienced participants, offering them a chance to fulfil their artistic fantasies by joining the Senior Friends Workshops. Participants are invited to explore their dancing and singing skills, reinventing themselves through simple, creative methods, unveiled interactively.
The ARTmusing Summer Workshops are a regular cultural event, bringing artistic insights to a growing number of performing art lovers each year. This edition includes a string of more than 70 intensive workshops, hosting nearly 300 sessions happening from June through August. Pre-registration for these inspiring sessions is open from the 7th to the 13th of May at CCM's box office, the Macao Ticketing Network website and outlets. Enrolment is taking place from May 16 to June 23. For further enquiries please visit www.ccm.gov.mo or call (853) 2840 0555.
View gallery