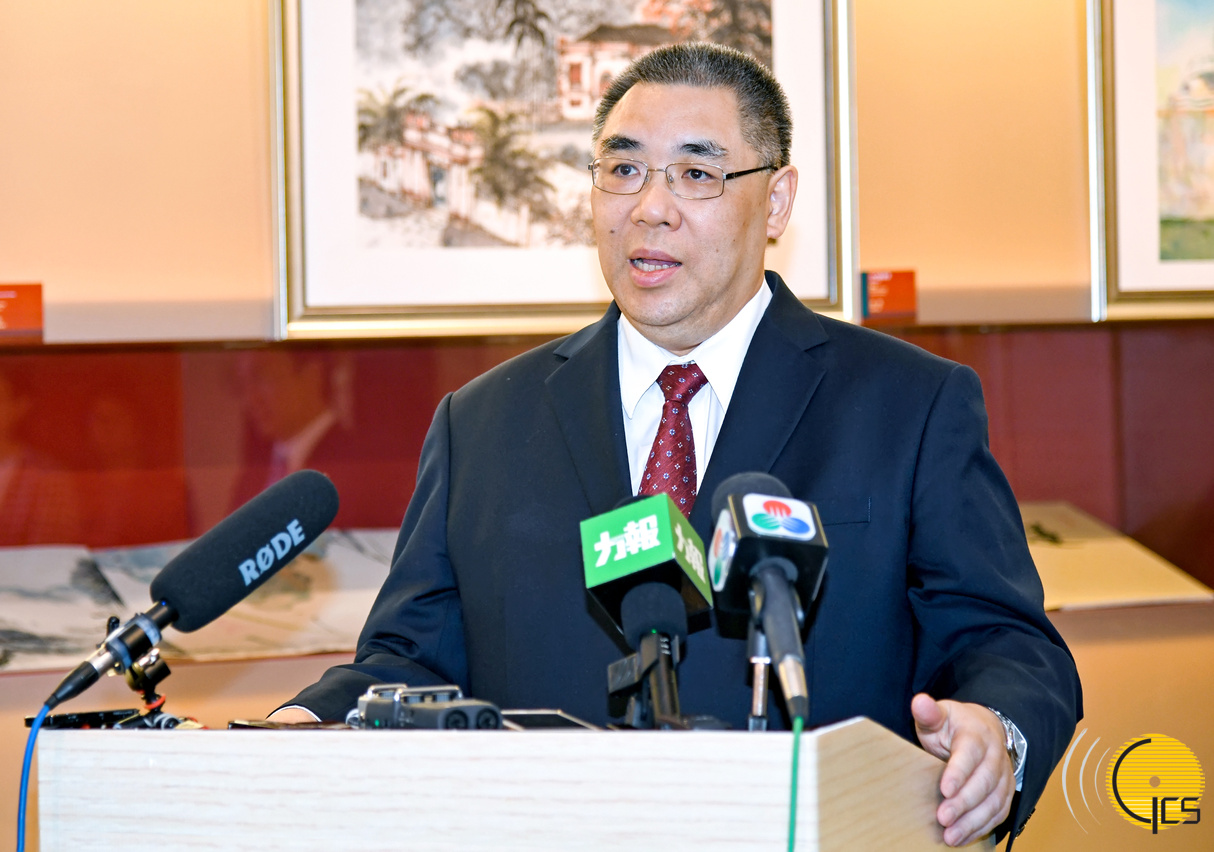 The Chief Executive, Mr Chui Sai On, briefs reporters in Lisbon, Portugal, regarding developments so far during his visit to the Portuguese Republic.
The Chief Executive, Mr Chui Sai On, said his visit to Portugal illustrated the consistent progress of friendly relations between Macao and Portugal and noted those close ties were entering a new phase.
He added that the unique links between Macao and Portugal, including historical ties, would give additional impetus to Macao's bridging roles in serving China and Portuguese-speaking countries. Such roles now also related to the vision set out under the "Belt and Road" initiative and to the planning for the Guangdong-Hong Kong-Macao Greater Bay Area (Greater Bay Area).
Mr Chui made the remarks to reporters in Lisbon in the morning local time on Thursday (16 May), as he gave a summary of his visit to the Portuguese capital, before travelling to the Portuguese city of Porto.
Mr Chui said the Government delegation's current visit to Portugal was of great significance, as it coincided with three anniversaries with relevance to Macao-Portugal ties. This year would mark, respectively: the 70th anniversary of the founding of the People's Republic of China; the 40th anniversary of diplomatic relations between the People's Republic of China and Portugal; and the 20th anniversary of Macao's return to the motherland.
While in Lisbon, Mr Chui held meetings with, respectively: the President of the Portuguese Republic; the country's Prime Minister; and the Ambassador of the People's Republic of China to the Portuguese Republic. The sixth Macao-Portugal Joint Committee was also held during Mr Chui's visit to the Portuguese capital.
The Chief Executive said he was pleased about the achievements announced during his Lisbon visit, including three agreements signed concerning: surrender of fugitive offenders; automatic recognition of diplomas and academic degrees; and tourism education.
During Thursday's press briefing, Mr Chui said Macao and Portugal would extend cooperation in: economic and trade matters; cultural exchange; tourism; and education. Macao's platform functions would also help Portugal take part in the "Belt and Road" initiative and ongoing development of the Greater Bay Area, he added.
In addition, Mr Chui pointed out the SAR Government would dedicate further effort to supporting Macao young people seeking to start a business, and would use as a reference point Portugal's successful experiences in promoting youth entrepreneurship.
Regarding an expansion project for the Macau Portuguese School, Mr Chui said the SAR Government had always been supportive of the institution's development. He said a team led by the relevant Government Secretaries would work closely with the school in order to launch the expansion project with great efficiency.
View gallery