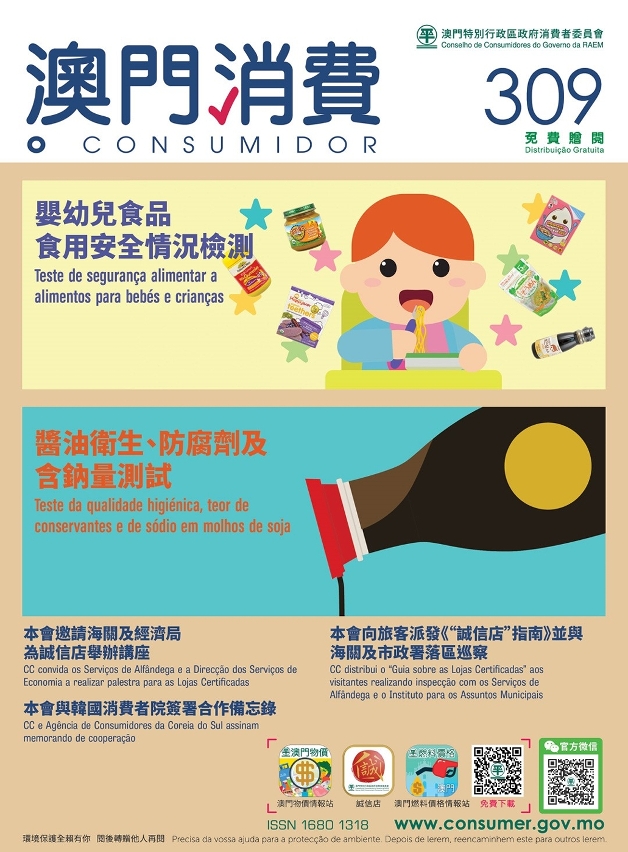 No. 309 Consumer Report
The latest issue no. 309 Consumer Report features two test reports on 25 baby food and 15 soy sauce products, test results are satisfactory, details and other tips can be found on the Council's website (www.consumer.gov.mo) and WeChat account.
Contents of lead found in baby foods pass
Immunity of infants and toddlers are comparably weaker than adults, and infants and toddlers are considered high-risk group in terms of food safety. The Consumer Council and the Department of Food Safety of the Municipal Affairs Bureau (IAM) therefore conducted a test on 25 baby food products, including baby food, snacks, and drinks. All tested samples pass and the result is satisfactory, the contents of lead found in baby food also meets the testing requirement.
Long-term intake of lead during growing stage of infants and toddlers may affect their intellectual development or even cause damage to the central nerve system.
Sodium content of 1 soy sauce tested differs from nutrition facts label
Soy sauce is a major condiment, the test co-hosted by the Council and IAM shows that 15 soy sauce samples pass the testing requirements of safety in preservatives and pollutants.
The contents of sodium in 1 soy sauce sample is found to be different from the value stated on its nutrition label, the involved product has been taken off the shelves and recalled. The features of the two reports are available in Consumer Report issue 309.
Tips on choosing sticky rice dumpling
The Council and IAM periodically test different types of food and drinks, including festive foods, to ensure the safety of consumers, and the two departments have announced the test result of sticky rice dumpling before Dragon Boat Festival. A feature on how to choose sticky rice dumpling is included in this issue.
Warranty included with product as stated in law
To safeguard consumer rights, the Civil Code states that consumers are entitled the right to have warranty on products they purchase during a certain period, there are also regulations on how to handle defective products. The latest Consumer Report features a detailed explanation on the rights and responsibilities of both parties in a transaction.
Consumers may access the magazine online on the Council's official website and WeChat official account. Consumer Report is now also available free of charge at the Council (Av. Horta e Costa, N.º 26, Edf. Clementina Ho), and the service counter of the Council at Macao SAR Government Service Centre (Rua Nova da Areia Preta, Nº52), Public Information Centre at Vicky Plaza, libraries, and bookstores.
For inquiry, please call the Council's hotline: 8988 9315.
View gallery