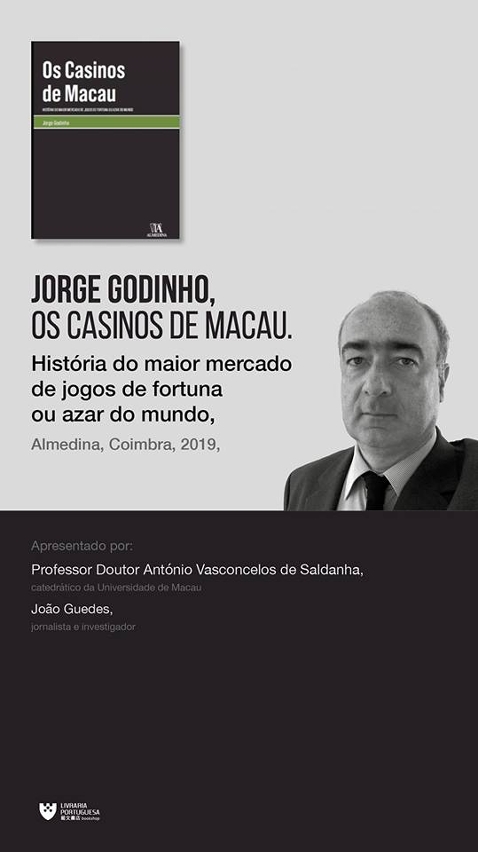 Prof Jorge Godinho has published The Casinos of Macau—History of the World's Largest Gaming Market
Prof Jorge Godinho, a visiting professor at the University of Macau (UM), recently published a book about Macao's gaming history from 1849 to today, titled 'The Casinos of Macau—History of the World's Largest Gaming Market'. Written in Portuguese, the book was published by Livraria Almedina, the largest legal publisher in Portugal.
The author discusses a 170-year gaming history of Macao and how the city overtook Las Vegas to become the world's largest market for games of chance. It is the first time that the long evolution of legalised casino-style gaming, from 1849 up to the end of 2018, has been captured in such detail. The book provides an account of the operation of games of chance in casinos in Macao, the many concessions that have been authorised, the tendering processes, regulation and taxation, and the manner in which the various concessions have functioned, all within the economic and political context of each time period.
The book is divided into three parts: the Fantan era (1849-1961); the STDM concession (1962-2002), during which Baccarat became the most important game; and the current period of integrated resorts (since 2002), characterised by reforms such as the introduction of competition, the regulation of gaming promoters and credit for gaming, and an emphasis on diversification, in the context of a major growth in tourism. According to Prof Godinho, the book fills a major gap not just in literature about casino gaming in Macao, but also in the studies of the city's economic history.
Prof Godinho was previously a full-time professor in the Faculty of Law (FLL), where he served for many years as the coordinator of the Master of Law in International Business Law programme (English). Currently a visiting professor at UM, he teaches gaming law in the FLL and the Faculty of Business Administration.
View gallery