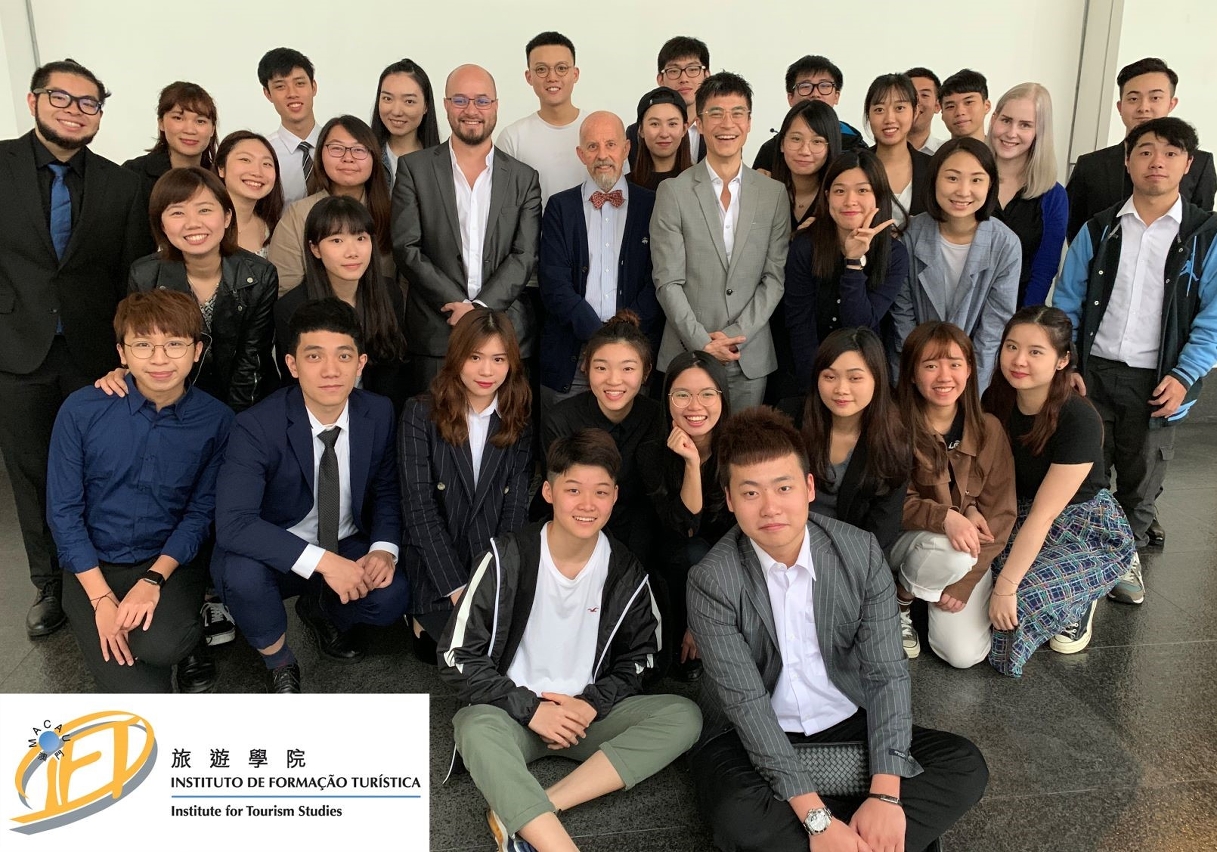 IFT students offering research and marketing ideas to 5-star hotel
This year, students from the Tourism Retail and Marketing Management programme at the Institute for Tourism Studies have successfully completed a consultancy project for Altira Hotel (Melco Resorts & Entertainment Limited).
The course leader Dr. Fernando Lourenço designed a very interesting project with the Vice-President of Brand Marketing Mr. Scott Messinger and Director of Brand Marketing Mr. Miguel Khan to give students real world experience as well as opportunity to apply their learning in real world situation. The aim of the project is to drive the local market from the Taipa region into Altira hotel to enjoy the award winning offerings and facilities. The project was structured into two major steps: 1) research and 2) development. In step 1, student conducted field research to create four databases: residential apartment buildings in Taipa (related to the market); food, beverage and entertainment facilities in Taipa (related to location characteristics); facilities in hotels and integrate resources in Macao and Taipa (related to competition); and theories related to luxury consumption (related to the consumer behaviour). Once students have a good understanding of the location, market and competition, in step 2, students had to develop a marketing campaign based on a core concept leading to the development of a metaphor and story to meet the following goals: 1) attract the local market to enjoy the facilities in Altira Hotel, 2) to differential Altira Hotel from competitors and 3) to inform the target market that Altira Hotel is the "crown jewel" of Taipa. Mr. Scott Messinger and Mr. Miguel Khan were very positive about the outcomes and told students that the ideas were very feasible, many of those can be implemented right away.
The teaching philosophy of Dr. Lourenço is all about bringing mutual benefits to various stakeholders. Industrial projects have the potential to offer valuable real-world experience to students and help their CV and it also helps to generate valuable outcomes to industrial partners. When these stakeholders gain, the overall quality of teaching enhances and this ultimately improves the quality of the degree programmes at IFT and therefore develop better quality graduates for the region.
View gallery