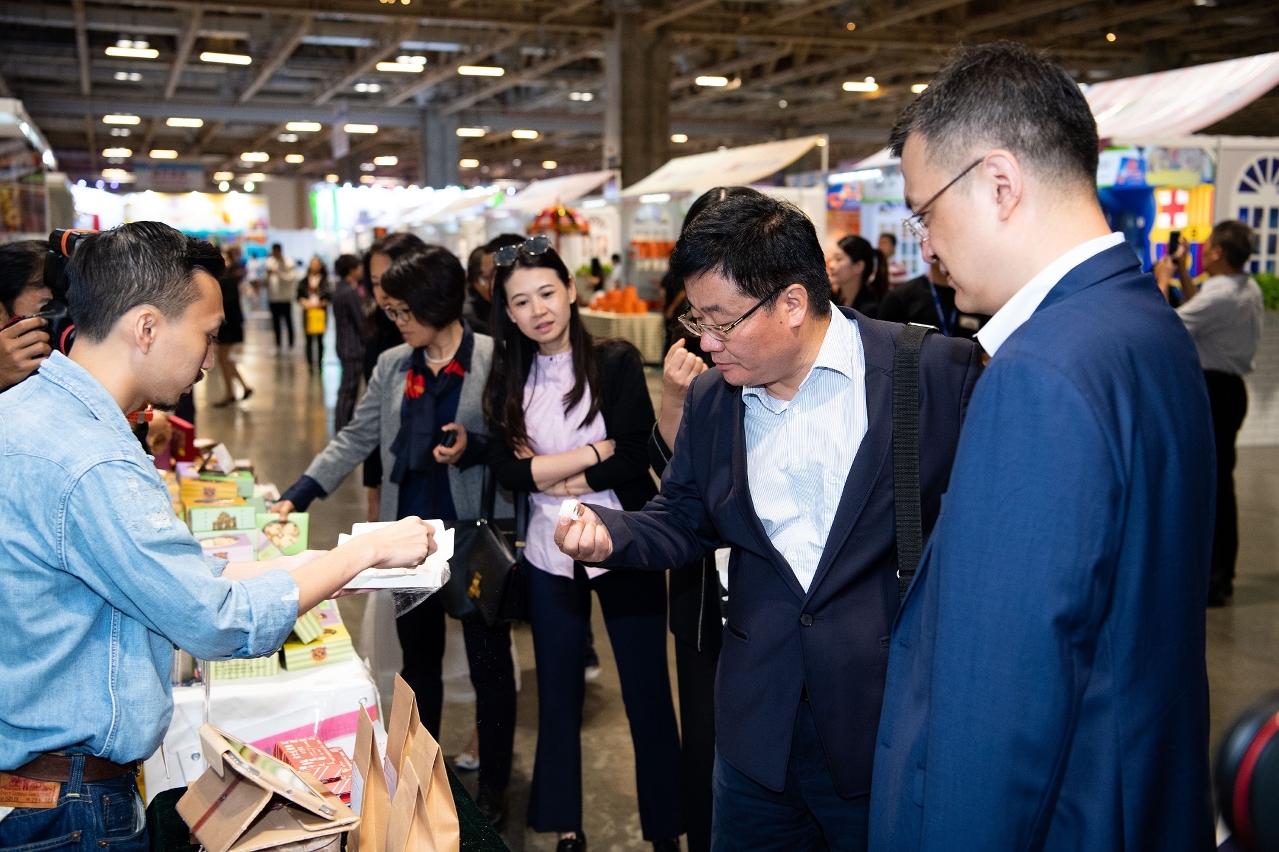 MFE's "Gourmet Avenue" expands markets for enterprises
The "Macao Franchise Expo 2019" (2019MFE) will be held at the Venetian Macao from July 26 to 28. Taking advantage of the international exchange and cooperation platform, this year's MFE will continue to bring together the world's leading franchise businesses and trade visitors. It will continue contributing to cooperation between enterprises and generating business opportunities through a variety of activities and supporting services.
The 2019 MFE has entered its 11th year since its debut in 2009. Last year, it was certified by the Union of International Fairs (UFI), becoming the first franchise expo in Greater China to receive this honor. Taking "Brand Expansion Continues, Business Opportunities to be Seized" as its theme, this year's MFE takes advantage of the Belt and Road Initiative and policy support of the Hong Kong-Guangdong-Macao Greater Bay Area to make full use of Macao's role as a platform between China and Portuguese-speaking countries. In addition to the "Gourmet Avenue", "Branding Zone", "Portuguese-Speaking Countries Pavilion" and "Innovative Retail Zone", "Global Food Brands Gallery", "Business Support Zone" and "Special Brands Area" (including "Guangdong Time-Honored Brands Zone" and "Macao Local Brands Zone") will be introduced in the expo. Multiple forums and lectures will also be held concurrently. Moreover, the organizer will also arrange visits to the Greater Bay Area and some of the successful local franchise brands. Trade visitors can also log on to the online business matching service platform developed by the Macao Trade and Investment Promotion Institute to seek partners and confirm cooperation intentions.
Having received unceasing supports from the Macao International Brand Enterprise Commercial Association, the Macau Chain Stores and Franchise Association, the Brazilian Franchising Association, the Association of Chain and Franchise Promotion Taiwan, the Licensing & Franchising Association of HK and the franchise industry, MFE has developed itself into an ideal exchange and cooperation platform for international franchise businesses. Meanwhile, the exhibition area has expanded to 6,000 square meters compared with 1,900 square meters in 2009, with exhibitors increased from 77 in 2009 to 150 in 2018. Besides, more than 200 booths are set for exhibitors from catering, service, retail, brand agency, education, e-commerce, fashion and other industries, including many internationally renowned franchise brands. The number of visitors has steadily increased and last year the expo received more than 6,000 trade visitors. Over the past ten years, MFE contributed to the signing of more than 160 contracts, of which more than 80% have been implemented.
The 2019 MFE will continue to be held concurrently with the "Guangdong and Macao Branded Products Fair 2019" (2019GMBPF) and offer free admissions. The event will be open to trade visitors on the first day (July 26) and to the public from July 27 to 28. Please visit our official website (https://mice.ipim.gov.mo/) and fill in your information to apply for a "Macao MICE Pass", which allows you to participate in four MICE events organised/coordinated by the Macao Trade and Investment Promotion Institute (the four exhibitions are the Macao International Environmental Cooperation Forum & Exhibition, the Macao Franchise Expo, the Macao International Trade and Investment Fair, and the Portuguese Speaking Countries Products and Services Exhibition (Macao)). For more details of the 2019 MFE, please visit our official website: www.mfe.mo, or contact us at Tel: 853-8294 6885, Fax: (853) 8294 6701, email: expo@mfe.mo, or follow "MFEMacau" on WeChat.
View gallery