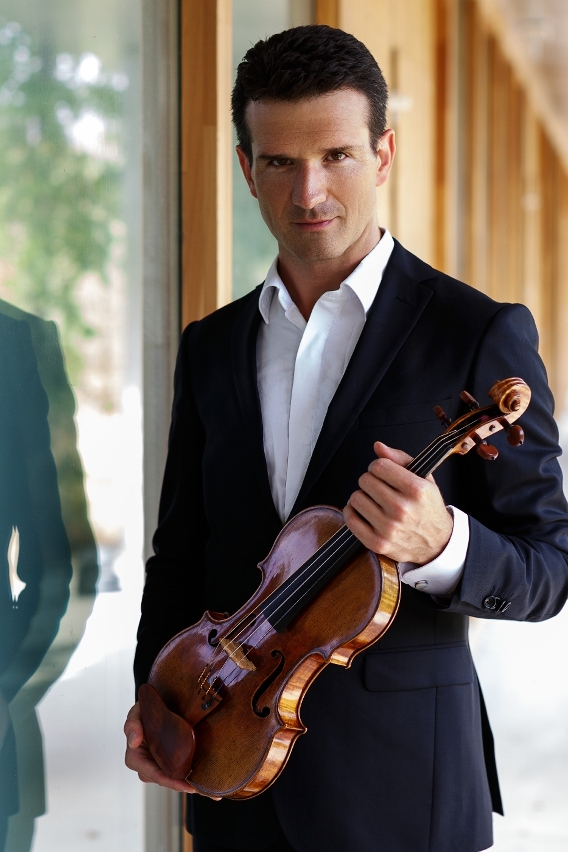 Svetlin Roussev(Photo Credit:Vahan Mardirossian)
The 33rd Macao International Music Festival (MIMF) Outreach Programme features a total of 14 activities in eight categories, including talks, pre-show talks, post-show talk, meet-the-artists, masterclasses, workshops, community activities and school session introducing the charm of music to the public.
Various different types of outreach activities will be held during the 33rd MIMF to enhance residents' interest in music and encourage their participation. Bulgarian violinist Svetlin Roussev and Sun Yingdi, the first Chinese pianist to have ever won the First Prize at the prestigious International Franz Liszt Piano Competition, are invited to conduct masterclasses in this edition of the MIMF, personally steering local violin and piano students and improving their skills. In the Meet-the-Artist session, multi-Grammy award winning jazz musician Billy Childs will share his music-writing experiences and musical skills he has developed over his long career. In "Finger Family – Musical instruments DIY workshop for families", parents and children will have an opportunity to make their own musical instruments such as African and South American cajons, rainsticks and kalimbas and play their instruments together in an ensemble.
A number of talks will also be held for participants to explore different music genres. Halen Woo, a specialist in African and Cuban folk music, is invited to introduce African music and demonstrate different types of African instruments, sharing the unique timbre and charm of Western African music to music aficionados. The Hong Kong-Macao electronic music band, Ghostly Park, will explore different kinds of electronic music, leading the audience into the world of this music genre, analysing the characteristics of each style and its corresponding music culture, and discussing recent developments of electronic music in Hong Kong and Macao.
The veteran art critic Chow Fan Fu will use his original "6S" approach to guide participants into the world of the grand opera The Magic Flute. In addition, the opera The Magic Flute will be also presented in school session, broadening students' horizons by allowing them to gain an appreciation for world-class performances and experience the music world outside the classroom. Interested schools are welcome to register. A number of pre-show talks and community activities will also be held during the Festival to explore the diversity of music, encourage the public's participation and enhance the audience's artistic appreciation, all not to be missed.
Online and phone registration for the outreach activities will be available from 9am on 5 August (Monday). For more information on the activities of the 33rd MIMF Outreach Programme, please refer to the respective booklet or visit the Festival's webpage at www.icm.gov.mo/fimm and the MIMF Page on Facebook. Admission to most activities is free but seats are limited. Registration is available through the webpage www.icm.gov.mo/eform/event. For enquiries, please call IC through tel. no. 8399 6699, during office hours, or email outreach@icm.gov.mo.
View gallery