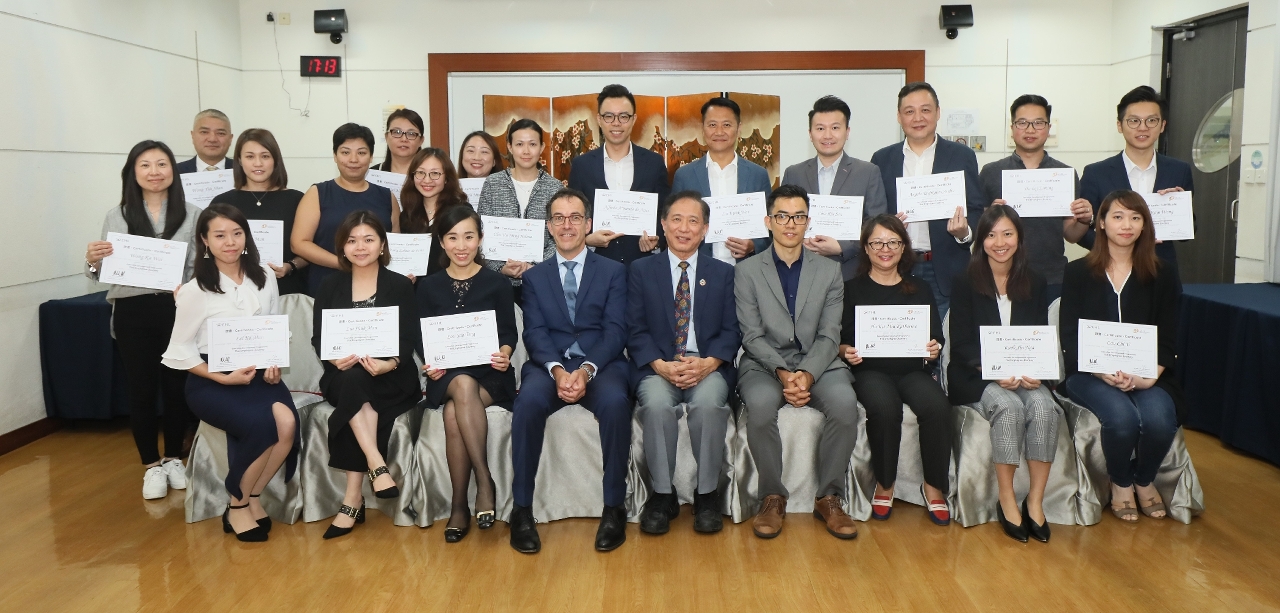 Group photo of participants and the facilitators
In order to provide diversified and advanced training opportunities for industry professionals and enhance management capabilities of the local service industry, Institute for Tourism Studies (IFT) and EHL Advisory Services of EHL group (which includes Ecole hôtelière de Lausanne, the world's first hospitality management school in Switzerland), are offering the Executive Development Programme in Macao on and 7 April. The programme attracted 21 professionals of hotels and mega resorts.
Through the programme on the topic "The Employee Journey", participants learned how to make an employee's journey the best opportunity to develop both an individual's and a company's value. It is the responsibility as managers to define, evaluate and implement integrated management systems that will tangibly bring value to employees and employers. The aim of this module is to provide managers methods and tools to attract, select, evaluate, develop and retain talented people as well as to nurture their own human capital.
IFT had the honour of inviting Mr. Pierre Verbeke, Senior Consultant of EHL Advisory Services and Mr. Henrique Ngan, Assistant Professor of IFT, as the facilitators of this programme. Mr. Verbeke has an extensive career in hotel operations, pre-opening and re-brandings. He managed serveal hotels in Belgium and set up many pre-opening teams in different countries, such as some European and North Afiracan countries. Mr. Ngan has taugh courses in the fields of social psychology, psychology of work, human resource management and organisational behavior. Prior to joining IFT, Mr. Ngan was responsible for the creation and implementation of corporate training and development solutions in the gaming industry.
As the tourism and hospitality industry is growing swiftly in Macao, the demand for high-quality professionals is increasing and thus hotel management needs to upgrade themselves to cope with the changing market trends. IFT always strives to enhance its teaching and research so as to contribute to the tourism industry and the society. By organising seminars, workshops and trainings, IFT constantly shares with the industry the most updated information and research findings about the future development of Macao's tourism industry and ways to enhance it.
View gallery