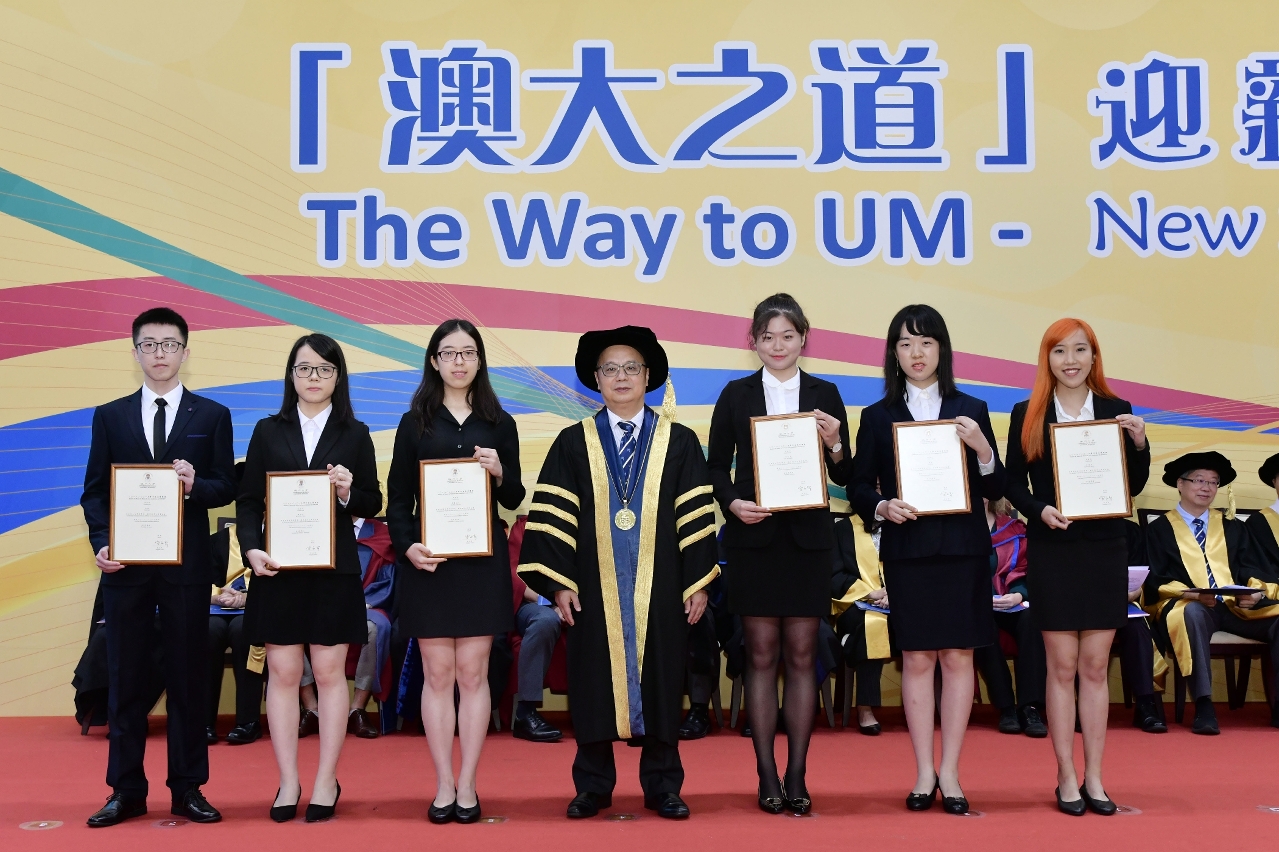 UM awards scholarships to outstanding students
The University of Macau (UM) today (15 August) awarded prizes and scholarships to 102 outstanding students, including those on the Rector's Honour List, at the convocation for the 2019/2020 academic year, to recognise the students' past achievements and to encourage them to continue studying hard in the future.
Kuan In Leng, a third-year student of computer science, who is on the Rector's Honour List, received the Nan Kwong Education Scholarship. Kuan says the scholarship shows recognition of her past efforts and achievements. She adds that UM devotes a lot of resources to scientific research, as evidenced by the establishment of three state key laboratories and the purchase of state-of-the-art equipment. She believes these resources provide a strong support to teaching and research in computer science and big data, and she is optimistic about the future of these fields.
Sio I I, a fourth-year student of English studies, received the Macau Foundation Scholarship. According to Sio, UM provides a very good learning environment for students, and she especially likes the residential college system, through which she can make friends with and learn from people from different places. In addition, the RCs organise activities on a regular basis, which help to enrich students' lives on campus and create more opportunities for teacher-student interaction.
Birkeland Samuel Russell, a fourth-year student from the Department of Psychology, received the Macau Foundation Scholarship. Russell does not come from a privileged background, but that has not stopped him from pursuing excellence in his studies. He says that UM has a professional faculty team, whose members encourage students to approach complicated problems from different angles until they find the best solution. He adds that students often consult the faculty members about the difficulties they encounter in their studies, and the teachers and students treat each other like friends.
This year, UM will award over 60 scholarships and academic prizes worth a total of MOP 4 million to more than 400 students. Six scholarships were awarded at the convocation, namely the Macau Foundation Scholarship, the Henry Fok Foundation Scholarship, the Bank of China Scholarship, the Frank Wong Foundation Scholarship, the Luso International Bank Scholarship, and the Nam Kwong Education Scholarship.
View gallery