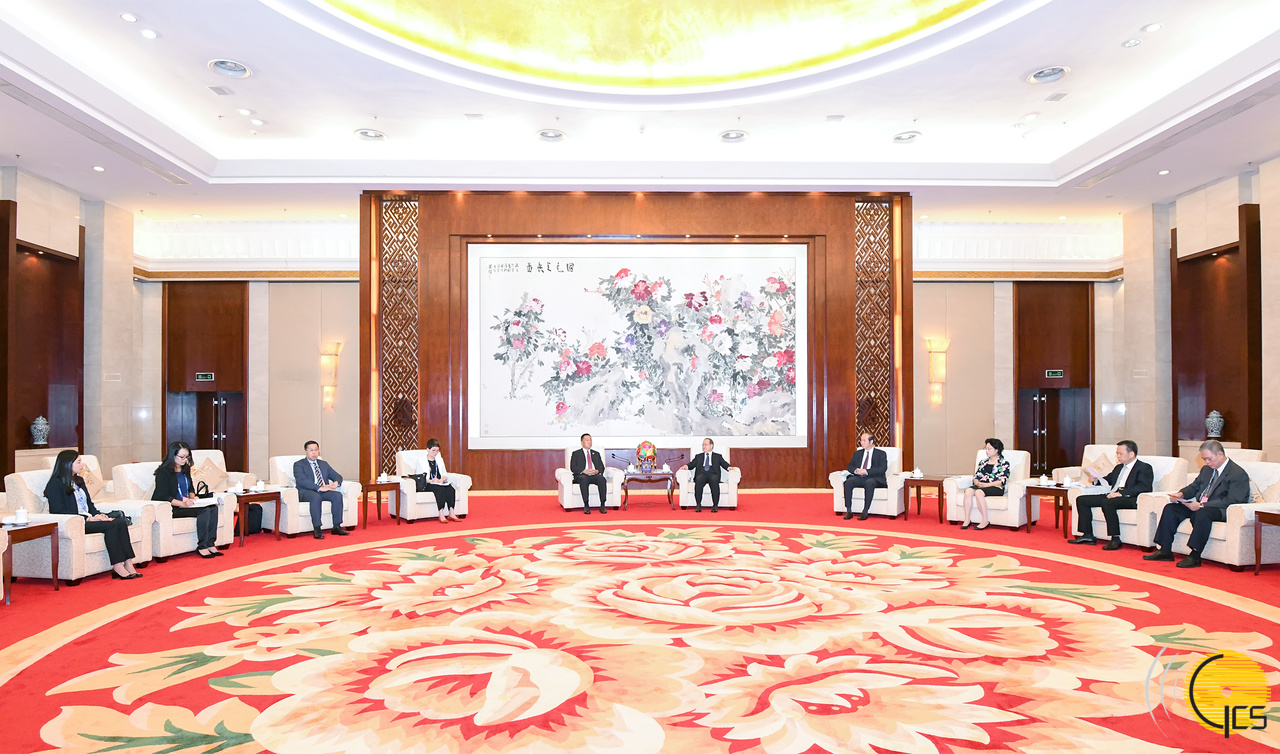 The Secretary for Economy and Finance, Mr Leong Vai Tac, meets with the Secretary of the CPC Guangxi Zhuang Autonomous Region Committee, Mr Lu Xinshe.
The Secretary for Economy and Finance, Mr Leong Vai Tac, today had meetings while in Guangxi Zhuang Autonomous Region, with respectively, local officials and ones from Sichuan Province, in a bid to exchange views on how to bolster cooperation.
Mr Leong is leading a Government delegation to Nanning in Guangxi for the 2019 Pan-Pearl River Delta (PPRD) Regional Cooperation Chief Executive Joint Conference. The Government delegation arrived in Nanning today in preparation for tomorrow's (Friday's) opening of the Joint Conference.
The Joint Conference is a platform – launched in 2004 – for regional cooperation between the nine provinces and two Special Administrative Regions (SARs) – collectively known as the "9+2" – that are located in the PPRD region. They are: Fujian; Jiangxi; Hunan; Guangdong; Guangxi; Hainan; Sichuan; Guizhou; Yunnan; the Hong Kong SAR; and the Macao SAR.
Mr Leong met in the afternoon with the Secretary of the Communist Party of China (CPC) Guangxi Zhuang Autonomous Region Committee, Mr Lu Xinshe.
During the meeting, Mr Leong said Macao and Guangxi had seen expanding cooperation opportunities in recent years thanks to the strong foundation laid previously. The SAR Government would seek further collaboration with Guangxi, on the basis of serving the needs of national planning and making further use of Macao's institutional advantages.
Macao and Guangxi could focus on broader aspects for cooperation, such as traditional Chinese medicine and specialised financial services, proposed Mr Leong. Such an approach would act to complement Guangxi's effort in opening up, with Macao's distinctive strengths in helping extend overseas connections.
Mr Leong added the governments of the two places would study other potential fields for collaboration, in order for the two places to apply their particular strengths in a complementary way, and elevate bilateral ties to a new level.
Speaking in the meeting, Mr Lu said he believed Guangxi-Macao ties would be extended and there would be greater reciprocal development for the two places.
Mr Lu spoke of Macao's active engagement in advancing national development, and in regional cooperation. He additionally said Guangxi-Macao ties had proven to be successful, with a greater number of practical opportunities having been created via sectors such as environmental protection; MICE (meetings, incentives, conferences and exhibitions); tourism; cultural affairs; healthcare; and creative industries.
In a separate meeting with the Governor of Sichuan Province, Mr Yin Li, Mr Leong said Sichuan-Macao cooperation would encourage – for both sides – participation in the "Belt and Road" initiative, and would also create opportunities regarding investment, trade, and development of traditional Chinese medicine. These efforts would also contribute to Macao's efforts at adequate economic diversification.
Macao and Sichuan enjoyed bright prospects for cooperation, Mr Leong said. He added that the two sides would step up exploratory efforts regarding how Macao's role as a commercial and trade cooperationservice platform between China and Portuguese-speaking countries could facilitate Sichuan's efforts to attract overseas investment.
Mr Leong shared information on how Macao's bridging role had succeeded in helping enterprises from the Chinese mainland to develop business in Portuguese-speaking countries. Examples included a traditional Chinese medicine production company that had completed registration of a product in Mozambique with assistance from the Traditional Chinese Medicine Science and Technology Industrial Park of Cooperation between Guangdong and Macao.
By making use of opportunities for dialogue and the platform created by the Chief Executive Joint Conference, Macao and Sichuan had made clearer some details and topics for advancing cooperation work. This would be beneficial in the long run for the creation of closer bilateral ties.
Speaking in the meeting, Mr Yin said that Mr Leong's commentary on cooperation prospects gave him some fresh insights that could be used for furthering collaboration. He added he looked forward to strengthening relations between Sichuan and Macao.
Mr Yin also recalled that other recent bilateral exchanges – occurring during last year's PPRD Cooperation and Development Forum and during a visit to Macao by a Sichuan Government delegation – had deepened and advanced efforts at practical cooperation.
Members of the Government delegation to Guangxi included: the Deputy Director of the Government Information Bureau, Mr Wong Lok I; Deputy Director of the Policy Research and Regional Development Bureau, Ms Lin Yuan; and Deputy Director of the Protocol, Public Relations and External Affairs Office, Ms Isabel Lam.
View gallery