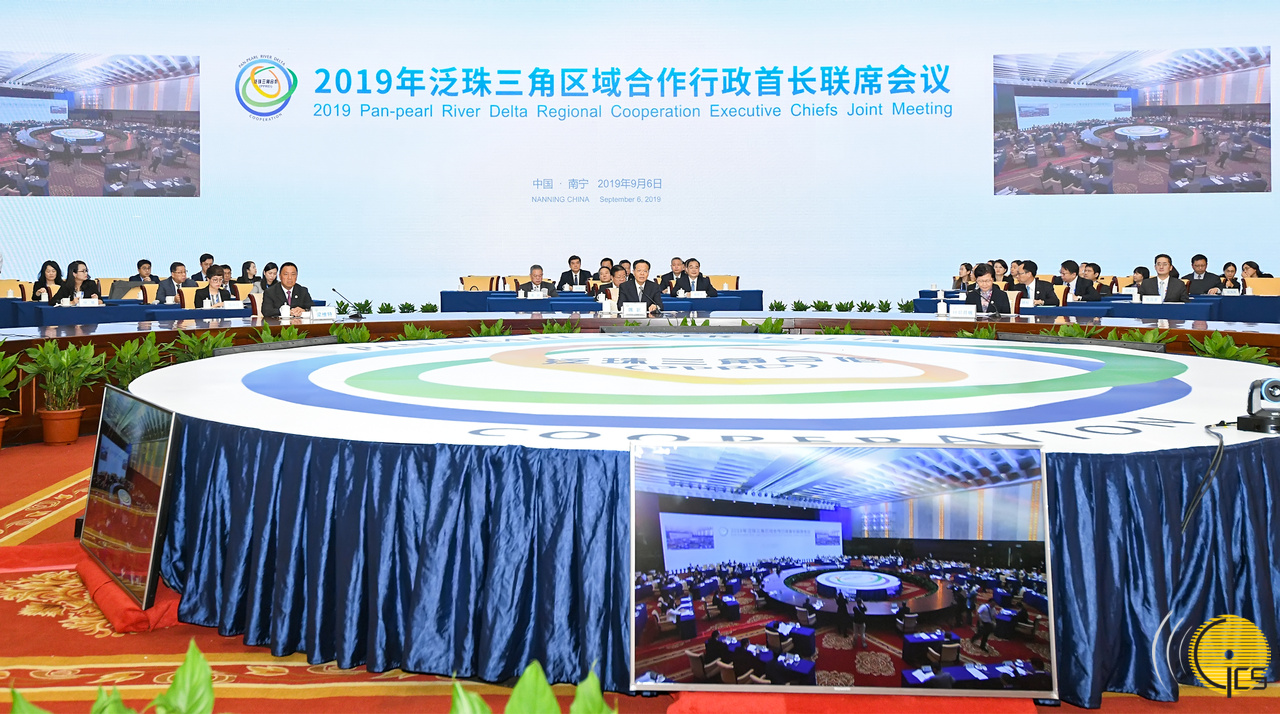 The 2019 Pan-Pearl River Delta Regional Cooperation Chief Executive Joint Conference is held in Nanning, Guangxi Zhuang Autonomous Region.
Macao and other places that make up the Pan-Pearl River Delta (PPRD) region will jointly make use of opportunities arising from development of the Guangdong-Hong Kong-Macao Greater Bay Area (Greater Bay Area), in a bid to usher a new level of PPRD cooperation.
The Secretary for Economy and Finance, Mr Leong Vai Tac, made the remarks today in his speech delivered at the 2019 PPRD Regional Cooperation Chief Executive Joint Conference, held in Nanning, Guangxi Zhuang Autonomous Region.
The PPRD region covers nine mainland provinces and two Special Administrative Regions (SARs) – collectively known as the "9+2" – i.e.: Fujian; Jiangxi; Hunan; Guangdong; Guangxi; Hainan; Sichuan; Guizhou; Yunnan; the Hong Kong SAR; and the Macao SAR. The Greater Bay Area initiative is an urban cluster formed by nine cities in Guangdong Province plus the two SARs.
In his remarks, Mr Leong briefed the conference participants about Macao's ongoing effort to ensure the thriving of its economic development, to enhance people's livelihoods, and to build on the city's inherent advantages. He additionally gave a briefing on how Macao was working to ensure it had close integration with overall national development.
Macao was committed to pushing forward the development of its strategic roles – as a world centre of tourism and leisure; and as a commercial and trade cooperationservice platform between China and Portuguese-speaking countries (collectively known as the "Centre and Platform" policies) – as well as pursuing the goals set out for Macao in the outline development plan for the Greater Bay Area. All these efforts would complement Macao's contribution to cooperation respectively with Greater Bay Area cities, and places in the PPRD region, Mr Leong said.
Mr Leong suggested one way to boost cooperation across the PPRD was to consolidate tourism resources within the region, in order to promote fresh tourism products and a new model of tourism.
Macao's close links with Portuguese-speaking countries would additionally assist places in the PPRD region to foster cooperation with those countries in terms of: economics and trade; MICE (meetings, incentives, conferences and exhibitions) business; traditional Chinese medicine; environmental protection; infrastructure development; and financial services.
The development of the Greater Bay Area as an international innovation and technology hub was a key goal of that city-cluster initiative, Mr Leong noted. Macao was striving to push forward local technological development. Meanwhile, Macao would also step up cooperation with places in the PPRD region in areas such as smart-city development, big data analytics, and traditional Chinese medicine promotion.
Participants in the 2019 PPRD Regional Cooperation Chief Executive Joint Conference signed following the meeting a summary of the minutes relating to the matters discussed.
View gallery