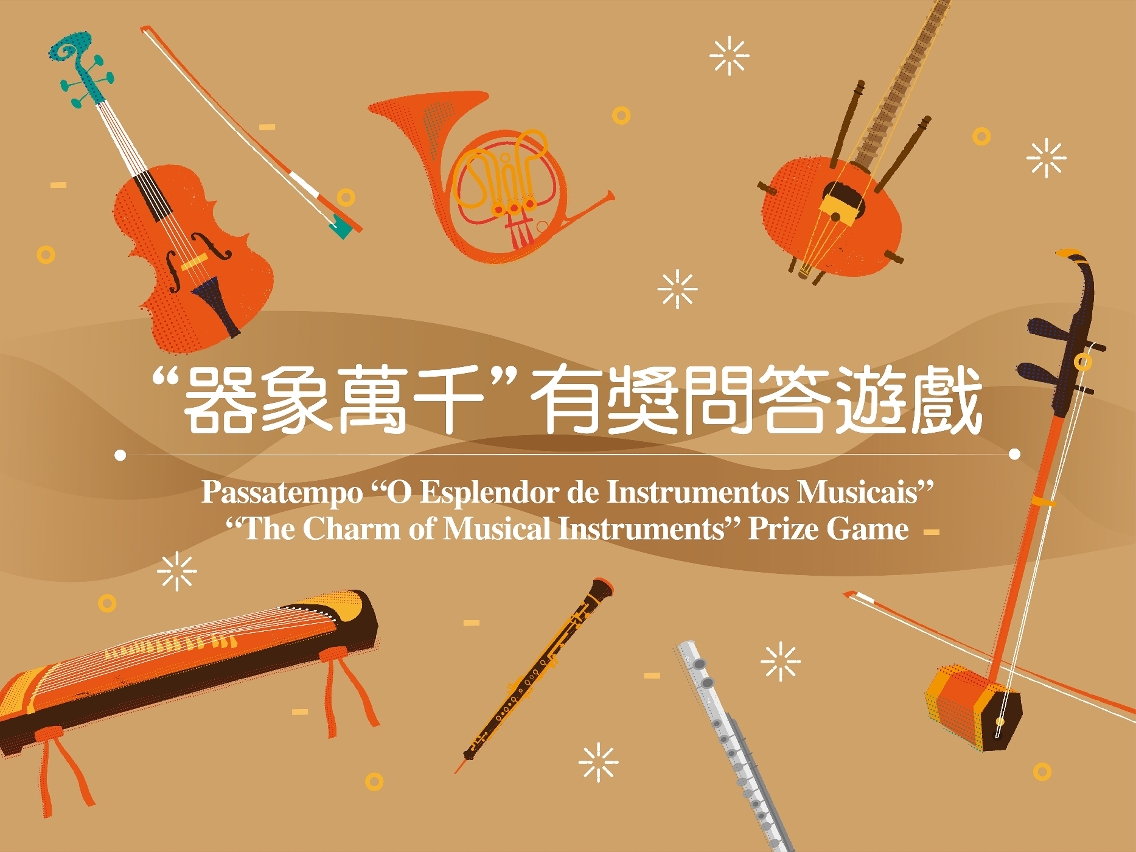 "The Charm of Musical Instruments" Prize Game
The 33rd Macao International Music Festival (MIMF), organized by the Cultural Affairs Bureau, will be held in October. Themed "The Instrumentalist", this edition of the MIMF offers 17 programmes in a total of 22 excellent performances, celebrating a truly musical feast with aficionados. Since the first day of ticket sales, the 33rd MIMF has received an overwhelming response. Tickets for some programmes are already limited, and the public is advised to purchase them as soon as possible. In order to create a festive atmosphere, the Organizer specially launched "The Charm of Musical Instruments" prize game allowing the public to win fabulous prizes.
"The Charm of Musical Instruments" prize game is launched from today to 30 October on the MIMF website. Participates who visit the game interface on the 33rd MIMF's official website, pair the musical instruments with the programme of this year's Festival correctly and fill in their personal details, will stand a chance to win fabulous prizes in a lucky draw, including economy class tickets sponsored by Air Macau, accommodation packages (deluxe room) at The Parisian Macao, free spending credit with BOC credit card and souvenir sets of the 33rd MIMF. For more information, please visit the 33rd MIMF's page on Facebook.
This edition of the MIMF offers a rich variety of programmes. The Macao Chinese Orchestra will join hands with the distinguished Chinese pianist Sun Yingdi to present Rhapsody in Blue a work that integrates both jazz and classical music, and the commissioned world premiere piece Postcard of Macao. The world-famous Dorian Wind Quintet will perform classics from the Renaissance and Baroque periods with superb technique, as well as contemporary works by American and French composers of the 20th century. American multi-instrumentalist Peter Broderick, the Trio Mediaeval from Norway, the Bulgarian violinist Svetlin Roussev and Korean pianist Yeol Eum Son will also make a debut in the Festival. The Portuguese ensemble "Os Quatro e Meia", composed of six young boys sharing a passion for music, combines pop and Fado music to present the most beautiful Portuguese songs with new sonorities and perspectives. Macao's violin prodigy, Sophia Su, will team up with the Sejong Soloists to present Haydn's Violin Concerto No. 1 in the concert "Serenade of Strings". This concert, originally scheduled to last 1 hour and 30 minutes, will be extended to 1 hour and 50 minutes.
For more information about the programmes, ticket purchase and other discounts, please visit the Festival's website at www.icm.gov.mo/fimm and the MIMF's page on Facebook. For enquiries, please contact IC through tel. no. 8399 6699 during office hours. 24-hour ticketing hotlines: 2855 5555 (Macao), 2380 5083 (Hong Kong) and 139 2691 1111 (Mainland China). Ticketing website: www.macauticket.com.
View gallery