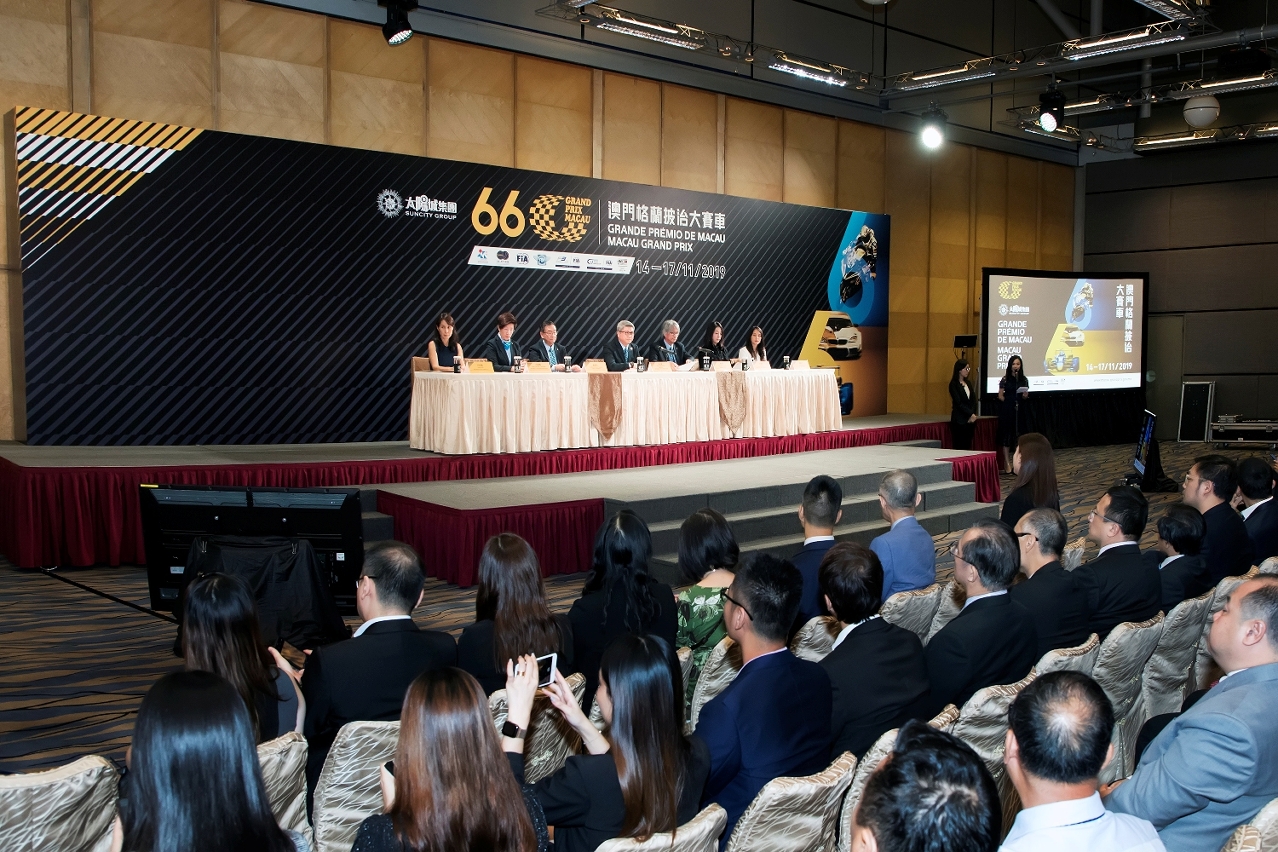 Press Conference of the 66th Macau Grand Prix
SJM announced as Macau GT Cup – FIA GT World Cup race title sponsor
FOOD4U returns as Macau Touring Car Cup title sponsor for second year
FIA recommends upgrades to Guia Circuit to accommodate FIA Formula 3 Championship cars
Organizers of the Suncity Group 66th Macau Grand Prix, which will be held from 14-17 November 2019, held a press conference today (September 12th) at the Macau Tower Convention & Entertainment Centre to announce updates for this year's event.
The press conference was attended by: Mr. Pun Weng Kun, President of the Sports Bureau of the Macao SAR Government and Coordinator of the Macau Grand Prix Organizing Committee (MGPOC); Mr. Charles Lo Keng Chio, Chairman of the Automobile General Association of Macao-China; Mr. Chong Coc Veng, President of the of Automobile General Association of Macao-China and Coordinator of Sporting Subcommittee of MGPOC; Ms. Christine Lam Lin Kio, Vice President of Sports Bureau of the Macao SAR Government and Deputy Coordinator of the MGPOC; Ms. Gina Lei, Senior Vice President of Corporate & Community Relations of Suncity Group; Ms. Daisy Ho, Chairman of the Board of Directors of Sociedade de Jogos de Macau, S.A. (SJM); and Ms. Ada Chong, Executive Director of FOOD4U Limited.
During the press conference, Mr. Pun signed title sponsorship agreements with Ms. Ho and Ms. Chong respectively which see long-time supporter SJMcontinue its involvement by lending its name to the popular Macau GT Cup, the official FIA GT World Cup for the fifth consecutive year, and online food delivery platform FOOD4U as title sponsor for the Macau Touring Car Cup for the second consecutive year.
This year, the Formula 3 Macau Grand Prix – FIA F3 World Cup will be for cars used in the FIA Formula 3 Championship for the first time. In order to accommodate the more powerful racing cars, the MGPOC, along with relevant government departments, has been working closely with the Fédération Internationale de l'Automobile (FIA) to ensure the 6.2km Guia Circuit is upgraded to an FIA Grade II homologated track this year. Following the recommendations of the FIA, which were in part based on extensive computer simulations, upgrades will be carried out at the Reservoir, Mandarin Oriental Bend, Lisboa Bend, Guia Hill areas and 'R' Bend. These include increasing the buffer zone at Lisboa Bend, and additional impact protection foam and new safety crash barriers at various points around the circuit.
In addition, electronic flags will be implemented this year to supplement manual flag signals.
Tickets for the Suncity Group 66th Macau Grand Prix are on sale now. Prices range from MOP50 for the November 14th and 15th practice days, to MOP400-1,000 on race days, depending on the grandstand.
Further information can be found by visiting the official Macau Grand Prix website at http://www.macau.grandprix.gov.mo or by downloading the mobile applications.
View gallery