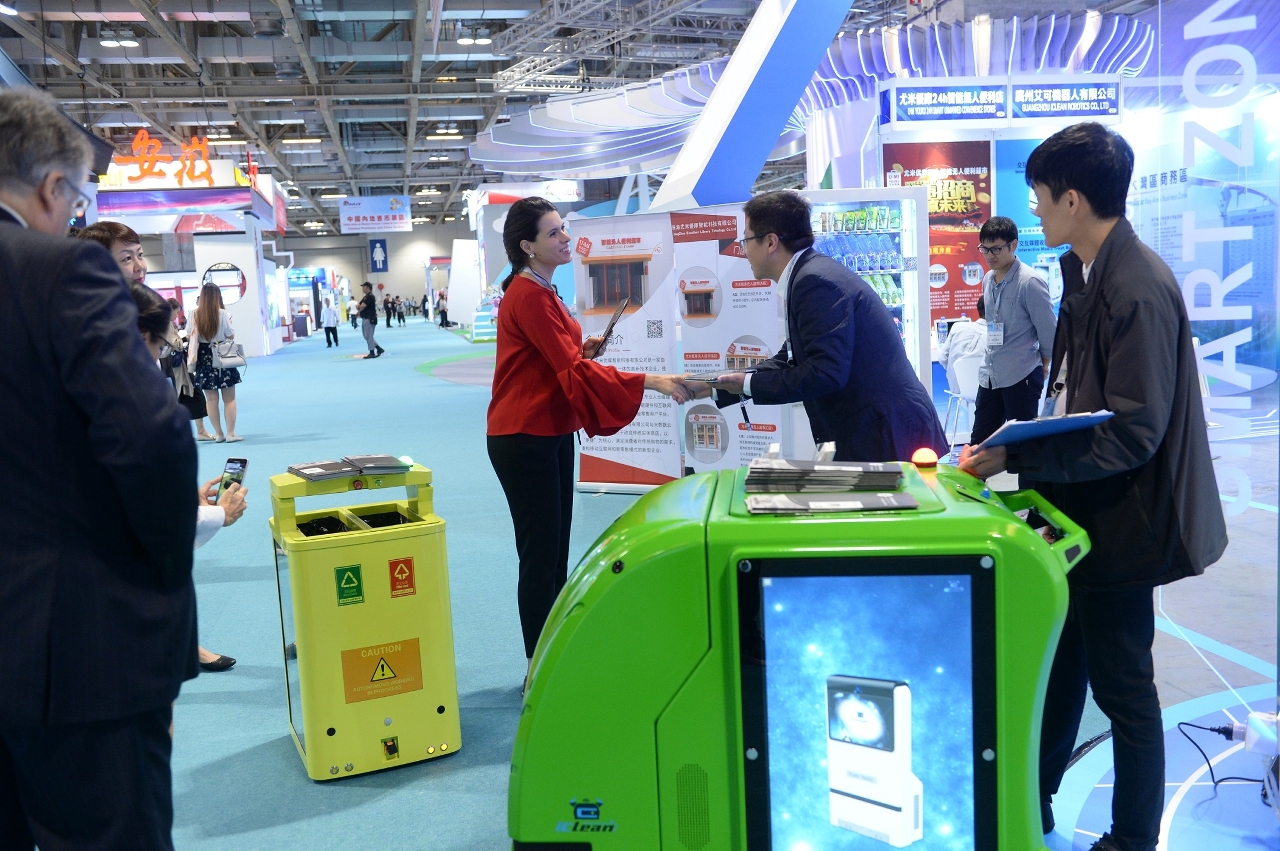 Many enterprises expand their business via the MIF
The 24th Macao International Trade & Investment Fair (24th MIF) will be held in The Venetian Macao from 17 to 19 October. In the past, some exhibitors managed to reach co-operation with international companies via the MIF, while some participated in the fair again to explore the market in the Greater Bay Area.
Daphne, delegate of the European Chamber of Commerce, said this year marked their tenth participation in the MIF. During the past fairs, over 150 enterprises from all over Europe gathered here to their promote products and services from various industries to Macao and around the world. Some of the exhibitors have established long-term co-operation with business partners in the target market areas. This year, the Chamber will bring 13 exhibitors to Macao and let them expand their business network and explore the market in the Greater Bay Area with the help of the business matching services in the fair.
Ms Chan, representative of a Latin American exchange agency, who has participated in the fair for twelve years straight, said that the number of participating Latin American countries was in the single digits in 2008, but the figure is in the double digits now. She said they could promote different products, co-operation and investment opportunities to different countries at the fair. She believed that the MIF was the largest platform for Latin American countries to promote their products and investment projects in Macao. In past fairs, the Latin American Pavilion connected businesses in both places and introduced Latin American products to Macao, such as wine, quinoa and healthy food. According to her, in addition to promoting fisheries and agricultural products from Latin America, she would also work with mainland enterprises to introduce products from Mainland China to Latin America and hence further promote two-way trade development.
In addition, Mr. Chan, representative of a youth start-up in Macao, said that after participating in the smart exhibition area which debuted last year, his company attracted widespread attention and won goodwill and opportunities for co-operation with international companies engaged in leisure, entertainment, and construction among others. The products are expected to enter the market next year. This year, apart from showcasing and promoting innovative sports products, he will also take part in the fair again to promote his smart agricultural co-operation projects. The 24th MIF and the 2019 Portuguese Speaking Countries Products and Services Exhibition (Macao) (2019PLPEX) would continue to be held simultaneously. He believed that it would help to further the information connectivity between enterprises in the Greater Bay Area and their overseas counterparts, especially those from Portuguese-speaking countries, thus contributing to better co-operative relations.
For enquiries, please call the MIF Administration and Service Centre at + 853-2882 8711 or email us at info@mif.com.mo. For the latest information, please follow our WeChat account MIFMacau or visit its website at www.mif.com.mo.
View gallery