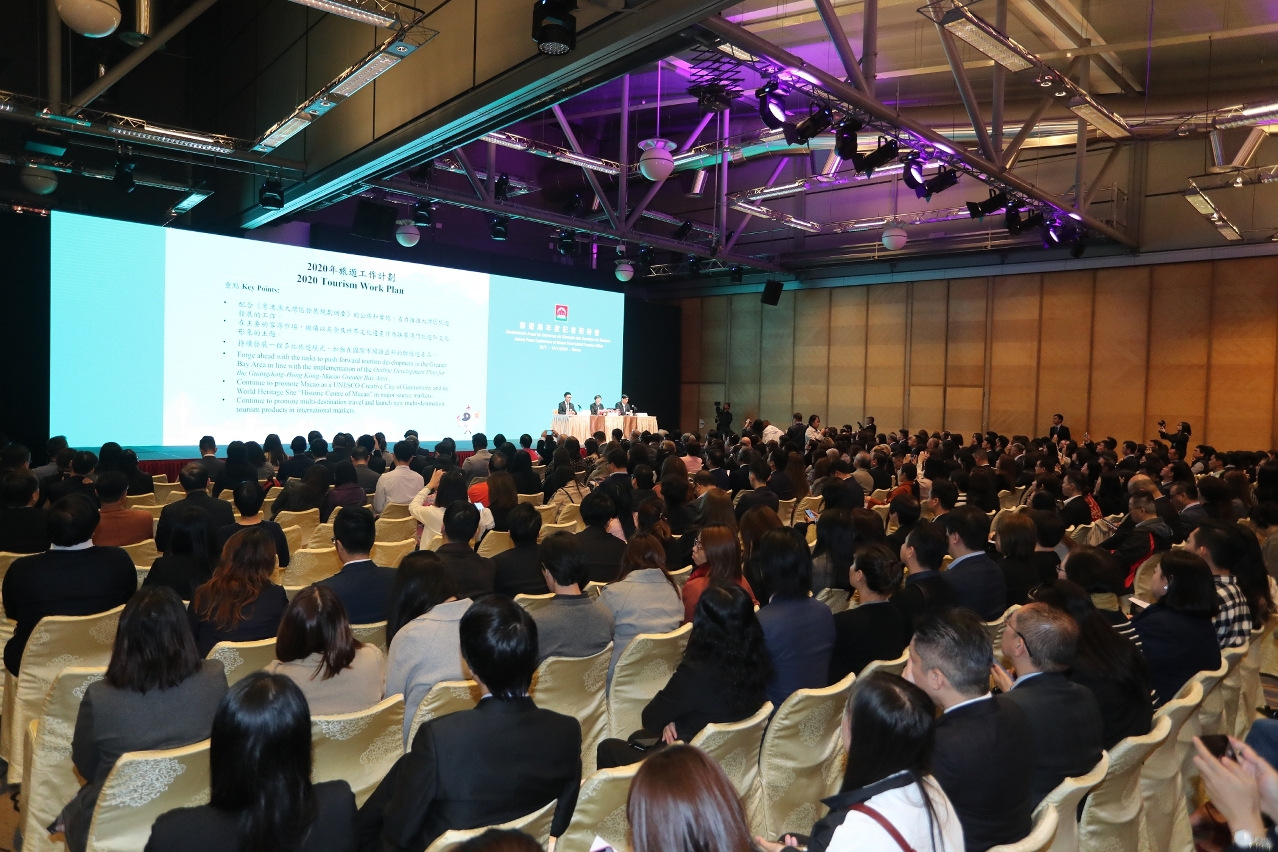 MGTO holds Annual Press Conference
Macao Government Tourism Office (MGTO) held its Annual Press Conference today (15 January), indicating that total visitor arrivals to Macao went up by 10.1% to over 39.4 million in 2019, as revealed by preliminary figures. There was an increase in both the figures of same-day visitors and overnight-stay visitors. Looking forward in 2020, MGTO will be committed to advance smart tourism development, promote multi-destination travel and conduct a review of the Macao Tourism Industry Development Master Plan ("Master Plan") to steer Macao's tourism industry toward diversification and sustainability, delivering tourism's impact in driving the economy forward.
In the press conference, MGTO presented a retrospective overview of Macao's tourism performance last year, followed by an introduction of the Office's work plan in 2020 delivered by MGTO Director Maria Helena de Senna Fernandes. Over 400 participants attended the conference, including members of the travel trade and journalists from Macao, Mainland China and Hong Kong, as well as foreign correspondents based in Macao.
Macao tourism situation in 2019 (preliminary statistics)
Despite fluctuations in the global economy last year, the local tourism industry continued to benefit from the Hong Kong-Zhuhai-Macao Bridge since its opening. Preliminary data revealed growth in several tourism figures last year including total visitor arrivals, visitor arrivals from the Greater China markets, as well as same-day and overnight-stay visitors.
Total visitor arrivals grew by 10.1% to exceed 39.4 million in 2019, among which over 36.3 million visitors came from the Greater China markets, a rise of 11.3%. International visitor arrivals dropped by 2.8% to 3 million and more.
Mainland China, Hong Kong and Taiwan region remained Macao's top three visitor source markets, all of which registered an increase in visitor volume. The city welcomed over 27 million Mainland visitors last year, up by 10.5%, with 45% of the visitors coming from Guangdong Province. The figure includes over 13 million independent visitors which constitute 46.8% of Mainland visitor arrivals. On the other hand, visitor arrivals from Hong Kong surged by 16.2% to reach 7.3 million while visitor arrivals from Taiwan region rose slightly by 0.2% to over 1 million.
Korea continued to rank first among international markets, contributing over 740,000 visitors to Macao last year. Visitor arrivals from the Philippines registered a remarkable rise of 35.6% whereas visitor arrivals from the United States, the only long-haul market among the top ten visitor source markets, dropped slightly by 1%.
Same-stay visitors increased by 20%
Preliminary data show that overnight-stay visitor arrivals climbed by 0.8% to surpass 18.6 million, accounting for 47.3% of total visitor arrivals. Same-day visitor arrivals, on the other hand, surged by 20% to exceed 20.7 million. The average length of stay of overnight-stay visitors and all visitors to Macao stood at 2.2 days and 1.2 days respectively.
Preliminary figures indicate that local hotel establishments welcomed a total of 13.9 million overnight guests last year and their average occupancy rate stood at 90%, both figures unchanged from 2018. The average room rate of three to five star hotels was 170.1 US dollars, up by 1.5%.
Up to the end of 2019, there are 126 local hotel establishments with a supply of 41,148 rooms, a year-on-year increase of 2.6%. The above figure includes 55 budget accommodation establishments supplying 2,121 rooms in total.
Total visitor expenditure between January and September 2019 amounted to 29.8 billion US dollars, marking period-on-period decrease of 2.9%.
MGTO Work Review of 2019
Throughout 2019, MGTO had been vigorously pushing various major tasks forward, including fostering smart tourism development, consolidating the work of Macao as a UNESCO Creative City of Gastronomy and actively engaging in the development of the Greater Bay Area as a travel destination, among other tasks.
MGTOlaunched collaboration with Alibaba Cloud last year, putting into service three projects namely"tourism information interchange platform", "application for visitor insights" and "smart application for visitor flows". The Office also showcased a smart tourism robot designed after the image of Macao Tourism Mascot "MAK MAK", developed by a local research and technology development team. In addition, the Office launched its newly-designed Macao tourism promotion website and opened up tourism industry data via the governmental data platform for visitors and industry professionals to obtain information.
To strengthen Macao's development as a UNESCO Creative City of Gastronomy, MGTO held a cooking show for the first time in 2019 and invited young chefs from various Creative Cities of Gastronomy to conduct cooking demonstration, in order to strengthen exchange between the local catering industry and their international counterparts. The Office also collaborated with National Geographic to launch "The Great Green Food Journey" project to locate, support and promote sustainable practices in the food and beverage sector in Macao.
MGTO also participated in the work to promote tourism development in the Greater Bay Area, including setting up joint booths for the Greater Bay Area in various international travel fairs and the 7th Macao International Travel (Industry) Expo ("MITE"), inviting tourism industry operators from cities across the Greater Bay Area to exhibit their tourism products at the 7th MITE, inviting overseas travel trade to pay familiarization visits to Greater Bay Area cities, carrying out overseas promotions of multi-destination travel experiences offered by the Greater Bay Area and launching relevant tourism products, etc.
Throughout the year, MGTO conducted 1,967 inspections on tourism professions and business establishments, 1,550 inspections at ports of entry and tourist attractions. For measures against the provision of illegal accommodation, the Office carried out 1,984 apartment inspections and sealed 382 apartments, in addition to 616 joint actions with the interdepartmental task force.
In celebration of the 20th Anniversary of the Establishment of the Macao Special Administrative Region, MGTO organized a series of activities in major visitor source markets and incorporatedpertinent elements into activities and mega events last year. The Office also staged Macao's first joint fireworks show together with Zhuhai.
Four major work goals of MGTO in 2020
In 2020, MGTO is dedicated to deepening smart tourism development and advancing the development of Macao as a UNESCO Creative City of Gastronomy, besides preparing for a review of the Master Plan and widening the diversity of tourism products and resources. The Office will work on respective tasks in accordance with four major goals.
The four major goals of MGTO in 2020 are as follows:
Review the Macao Tourism Industry Development Master Plan and foster smart tourism development
Prepare for a review of the Master Plan to catch up with the changes in tourism environment and industry development; through the tourism information exchange platform, expand the scope of application of the tourism Big Data database to enable travel trade to share and harness the data; develop an intelligent itinerary planner to provide tailor-made travel routes for visitors with different interests; integrate the current content of "Experience Macao", "Step-Out, Macao" and "What's On, Macao" mobile apps to provide a one-stop mobile application for Macao travel.
Continue the development of the "Creative City of Gastronomy" and strengthen tourism promotion
Continue with the tasks to advance Macao's development as a Creative City of Gastronomy, including organizing the "International Gastronomy Forum, Macao" to promote cultural exchange and cooperation with other Creative Cities and stepping up the establishment of Macanese cuisine database through interdepartmental cooperation; in terms of destination marketing, promote Macao as a major travel destination and ideal transit point for international visitors in the Greater Bay Area, launch new multi-destination tourism products in international markets and deliver the unique characteristics and strengths of the Greater Bay Area; develop Hengqin-Macao tourism products and brand both destinations together; enhance online promotion.
Focus on the construction of quality tourism and improve the service quality of the industry
Actively support the legislative process for the Law on the Operation of Hotel Establishments and the Law on the Operation of Travel Agencies and Tour Guide Profession; actively follow up with license applications of hotels, catering establishments and other types of establishments for approval; carry out regular and targeted inspections; maintain close collaboration with the interdepartmental task force to combat provision of illegal accommodation; maintain close contact with the tourism authorities of various cities in the Greater Bay Area for a timely exchange of information and optimize communication mechanism; continue to implement the "Quality Tourism Services Accreditation Scheme" and provide relevant training courses for industry professionals to gain international accreditation; provide training program for civil servants from tourism offices of Portuguese-speaking countries.
Inaugurate the Macao Grand Prix Museum and enrich tourism product resources
Expected to open in 2020, the Macao Grand Prix Museum will be equipped with a variety of multimedia and interactive facilities, offering a brand-new experience for visitors; continue to support the development of maritime tourism products and discuss with industry partners on the feasibility of developing island tourism products in the Greater Bay Area; organize a variety of mega tourism events and invite Greater Bay Area cities for participation.
MGTO will optimize the work plan in accord with the latest tourism situation and continue to carry out tourism work with appropriate adjustment in parallel with the Policy Address to be delivered in April.
View gallery