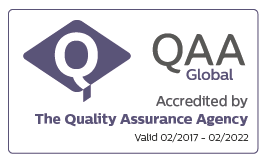 IFTM receives "QAA Global Accreditation"
Macao Institute for Tourism Studies (IFTM) has become one of the first three higher education institutions in the world to receive "QAA Global Accreditation" from the Quality Assurance Agency (QAA), UK's independent body and a global leader in quality assurance for higher education. IFTM is also the world's first higher education institution to pass the "International Quality Review (IQR)" of QAA in 2017.
IFTM has been recognised as having a strong regional and international reputation. This new accolade will further strengthen its reputation and critical standing regionally and across the globe.
The "QAA Global Accreditation", launched in November last year, is awarded to institutions that have passed the QAA's rigorous "International Quality Review (IQR)", an independent peer review measuring global institutions against the 10 standards of the internationally respected European Standards and Guidelines (ESG) criteria.
Fanny Vong, IFTM President, said: "The Global Accreditation gives us the confidence and motivation to keep enhancing the quality of our programmes and overall management of the Institute. We will continue to nurture talents for the tourism and service industry of Macao, the Guangdong-Hong Kong-Macao Greater Bay Area and other countries and regions."
By securing the Global Accreditation with QAA, international institutions can clearly spotlight their quality standards internationally, and more easily open dialogue with institutions outside their domestic market.
Douglas Blackstock, QAA Chief Executive, said: "This is a fantastic achievement for IFTM, demonstrating that they operate at the highest level of quality assurance. Successful institutions rely on collaboration and benchmarking, and that's exactly what IQR provides: allowing international institutions to measure their own quality assurance against European quality standards. It also allows international institutions to demonstrate and improve their effectiveness, improve public perception and promote themselves in partnerships with UK and European institutions."
You can find out more about International Quality Review and Global Accreditation at qaa.ac.uk/iqr.
View gallery